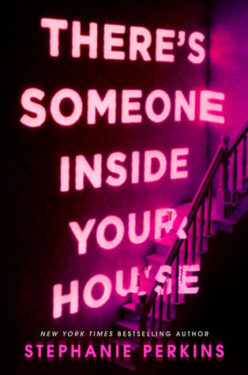 Title: There's Someone Inside Your House
Author: Stephanie Perkins
Publication Date: September 26, 2017
Publisher:  Dutton Books for Young Readers
Genre: Young Adult, Contemporary, Horror
Find It: Goodreads, Amazon, B&N, Book Depository
Source: Library
Rating: 1 star – zzz
Love hurts…

Makani Young thought she'd left her dark past behind her in Hawaii, settling in with her grandmother in landlocked Nebraska. She's found new friends and has even started to fall for mysterious outsider Ollie Larsson. But her past isn't far behind.

Then, one by one, the students of Osborne Hugh begin to die in a series of gruesome murders, each with increasingly grotesque flair. As the terror grows closer and her feelings for Ollie intensify, Makani is forced to confront her own dark secrets.

I feel bad giving this one such a low rating but I couldn't, in good conscience, recommend it to anyone. I was really excited to read this one and was bummed that it fell so far below my expectations. If you've never read Stephanie Perkins I would suggest picking up one of her previous novels first. If you read this first, you may be turned off her books forever, which with be a shame. I've read some of her earlier works and found them to be funny and charming with endearing characters.
There's Someone Inside Your House is a total departure for Perkins, genre-wise. She's known for her cute contemporary young adult romances. I was hoping that she'd bring some of the magic from her previous books into a really scary thriller. While I think that is what she attempted, it just didn't work for me. It felt like I was reading two totally different books. The first was cute a contemporary novel about a young women with a dark past trying for a fresh start in a new town and falls for an unconventional boy. The second was a tale of horror about a serial killer intent on gruesomely murdering the town's teens. As separate stories neither was very compelling but they were OK. Put them together and you get a book with an identity crisis. Unfortunately I didn't care for the characters very much either. They are definitely unique and I admire Perkins for making some unconventional choices for her characters but I still found them to be pretty bland. The characters the killer was targeting were throwaway characters who barely have any page time and their deaths have very little emotional impact except for maybe the horror at the violent ways in which they die.
I could forgiven a lot of my issues with the book had the ending been amazing. I was hoping for an unexpected twist or a shocking reveal that would tie the story up in a clever bow. The big reveal on the killer was anti-climactic to say the least. The killer ends up being someone you don't expect but only because they are a very minor character up until that point. Their motivation for killing also isn't explained in much detail and I had a hard time understanding why they decided to kill so many people. And the dark secret that Makani is hiding? It was a bit of a letdown, too, and I don't think Makani deserved to be sent away from home for it.
While I commend Perkins for trying something new, I can't really say that I enjoyed it. There's Someone Inside Your House doesn't have the charm and sweetness of her previous novels nor is it scary enough to make a real play as a horror novel. I really liked the premise of this book but the execution was a letdown.