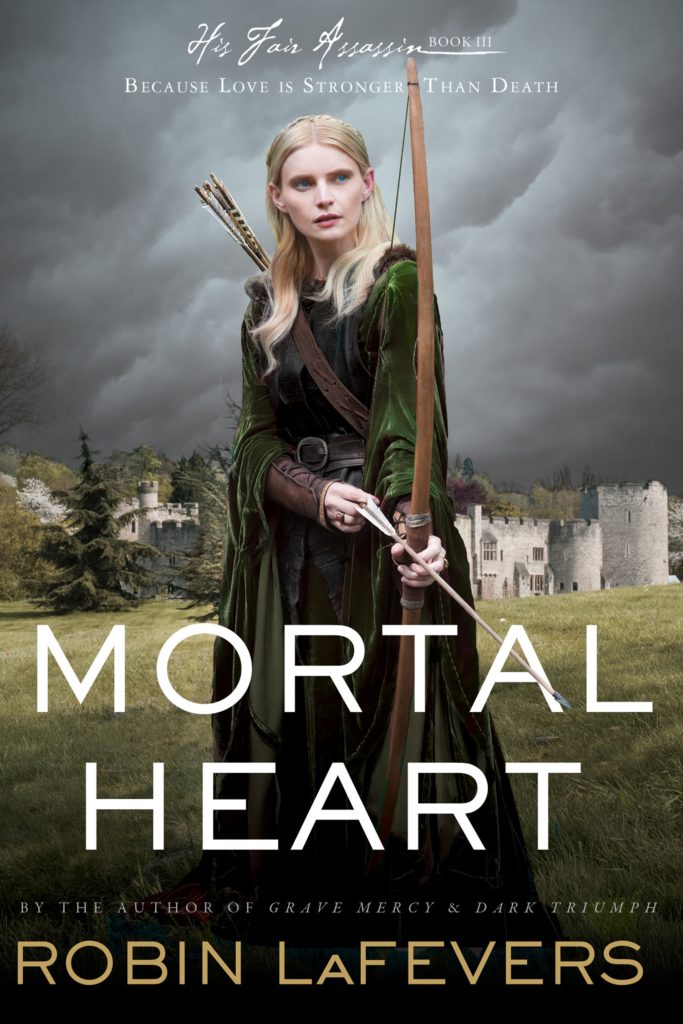 Title: Mortal Heart (His Fair Assassin #3)
Author: Robin LaFevers
Publication Date: November 4, 2014
Publisher:  HMH Books for Young Readers
Genre: Young Adult, Fantasy, Historical, Romance
Find It: Goodreads, Amazon, B&N, Book Depository
Source: review copy from publisher
Rating: 4 stars – stay up late
Annith has watched her gifted sisters at the convent come and go, carrying out their dark dealings in the name of St. Mortain, patiently awaiting her own turn to serve Death. But her worst fears are realized when she discovers she is being groomed by the abbess as a Seeress, to be forever sequestered in the rock and stone womb of the convent. Feeling sorely betrayed, Annith decides to strike out on her own.

She has spent her whole life training to be an assassin. Just because the convent has changed its mind doesn't mean she has.
*May contain spoilers for previous books in the series
I picked this book up about a year ago, excited to finally finish this great series, when I found myself losing interest and putting it down. I didn't think I'd wait this long to come back to it, but I'm glad that I did. I picked up where I left off and was immediately drawn back into this world of magic, gods, and assassins.
Mortal Heart gets off to a much slower start than its predecessors. I think the reason I stalled on it the first time was that it takes a lot longer to get into the meat of the plot than the first two books. In hindsight, however, I think the pacing fits Annith's story well. Her life isn't one of danger and excitement. She's been at the convent longer than any of the other girls. Loyal, dependable, and excelling in all of her classes, Annith's one true desire in life is to be sent out on a mission to serve Mortain, the god of Death. When the abbess denies her again and instead sends out a girl too young and unskilled, Annith is spurred into action to find out just why the abbess is so intent on keeping her at the convent.
Her mission to confront the abbess takes her on a journey that tests her and shapes her into the person that she was meant to be. Even though the book got off to a slow start, I think it helped me understand just what Annith's life was like at the convent. I felt her frustration and anger about being kept back and I felt righteous joy with her when she finally escapes the confines of the convent.
Her journey is fraught with danger and Annith must use her intelligence and skills in order to survive. On the way she meets the hellequin, damned souls who seek redemption by escorting souls to the Underworld. Their leader, Balthazar is a complex and troubled man whom Annith feels an immediate connection. As she makes her way to the abbess, a war rages around her between the nation of Brittany and France.
This is the conclusion to the His Fair Assassin series and Annith's story is the perfect way to the series. You'll see some of your old favorite characters in it as well as meet some new ones. Annith really comes into her own in this book and proves herself to be a fierce warrior with a big heart. There are definitely some surprises in store as well.
Overall I thought it was a satisfying end to a really fun series. LaFevers deftly combines history wit her own fantastic world to create something that is unique and memorable. Highly recommended.
*I received a copy of this book from the publisher. This in no way affected my review or opinion of the book.