Hi, everyone! I know posts have been scarce lately and I am sorry about that but life is really just crazy at the moment. Even though this is a bit late, I wanted to post my recap of L.A. Comic Con (formerly Comikaze). Comikaze is a comics and pop culture event that takes place every year around Halloween. The con continues to grow each year with more exciting programming and special guests. This was my third year attending and I had a really great time. Below is a brief recap of what I saw and did during Comikaze 2016.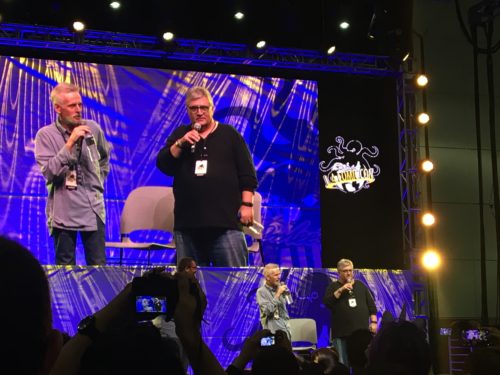 The first "panel" I went to was a Q&A with Rob Paulsen and Maurice LaMarche who are the voice actors behind the Animaniacs characters Pinky & The Brain. This was on the Hot Topic Main Stage so you didn't have to be in a room or anything. I was surprised by how fun and interesting this panel was. Paulsen and LaMarche talked about lost scenes and what recording Animaniacs was like (as awesome as you think). And then Paulsen serenaded us with a live version of Yakko's Song.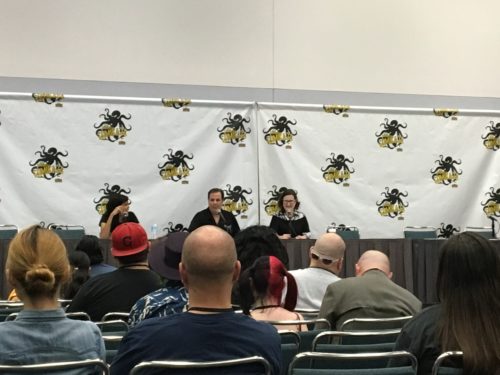 I also popped into the Harley Quinn panel with Jimmy Palmiotti and Amanda Connor. I think Jimmy and Amanda are hilarious and I try to see them when I can. It was a really fun panel discussing some upcoming things for the Harley Quinn series and some thoughts on the recent Suicide Squad film. I really wanted to stop by their booth and get something signed but it was mobbed the whole time and I decided not to get in line.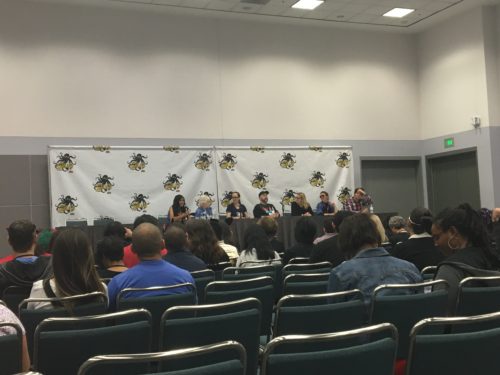 Next I headed to the Wonder Woman 75 panel. I admit that I am the biggest Wonder Woman fan. Not that I don't like her, she just wasn't my favorite growing up. I was really into X-Men and Batman and somehow Wonder Woman escaped much of my notice. I was familiar with TV show, of course, but I don't even remember watching it very often. With Wonder Woman's 75th anniversary and the new film coming out, there has been a lot more press and focus on her this year. I've been sort of rediscovering the character this year and wanted to learn more about her history and evolution.
The panel panel featured the voice of Wonder Woman on Hanna-Barbera's Super Friends, Shannon Farnon, the artist of Wonder Woman '77, Cat Staggs, the writer of Wonder Woman '77, Marc Andreyko, the voice of Wonder Woman on Justice League and Justice League Unlimited, Susan Eisenberg, the granddaughter of William Moulton Marston and Elizabeth Holloway Marston, Christie Marston, and the managing editor of Comic Book Resources, Albert Ching. This was a really interesting panel and the guests discussed their introduction to the character as well as the impact she's had on their lives. They also discussed some of the reasons they think she's such an iconic character. I came out of this panel having a new appreciation for Wonder Woman and an urge to read some of the back catalog. Later I picked up the new Wonder Woman graphic novel by Jill Thompson.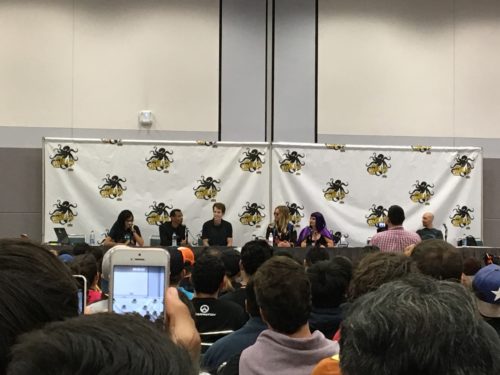 My last panel of the day was a very cool panel called Voices of the DC Universe which was about the voice actors from various DC projects. The panel included Tara Strong (Raven, Teen Titans and Teen Titans GO!, Harley Quinn, Batman: Arkham City, Arkham Knight), Scott Menville (Robin, Teen Titans and Teen Titans GO!), Hynden Walch (Harley Quinn in The Batman and Batman: Assault on Arkham, Starfire on Teen Titans and Teen Titans GO!), Greg Cipes (Beast Boy on Teen Titans and Teen Titans GO!), Phil LaMarr (Green Lantern/Jon Stewart on Justice League and Justice League Unlimited) and Kevin Conroy (Batman, Batman: The Animated Series). This was a pretty star studded panel with some very well known voice actors. They discussed their start in acting and voice over, as well as some of the challenges of working in the industry. I was really glad that we got into this panel because it was super interesting and really entertaining as well.
I had a really fun time at Comikaze this year and like that it's a smaller, more intimate convention. I'm already looking forward to next year.