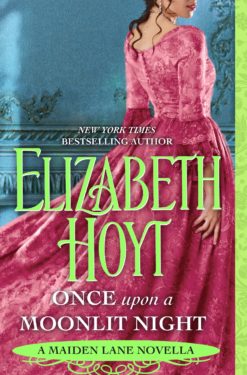 Title: Once Upon a Moonlit Night (Maiden Lane #10.5)
Author: Elizabeth Hoyt
Publication Date: July 5, 2016
Publisher:  Forever Yours
Genre: Historical Romance, Novella
Find It: Goodreads, Amazon, B&N, Kobo, iBooks
Source: e-ARC from Netgalley
Rating: 2 stars – you are getting very sleepy
Hippolyta Royle is running for her life. Pursued by hounds on a cold rainy night, the heiress flags down a passing carriage and throws herself at the mercy of the coach's occupant. Whoever this handsome traveler may be, he is her only hope to escape a terrible fate. But should he agree to escort her to safety, he's in for much more than he bargained for.

At first Matthew Mortimer doesn't believe Hippolyta's story, that she's a fabulously wealthy heiress who's been kidnapped. He assumes she's a beggar, an actress, or worse. But once his new travel companion washes the mud from her surprisingly lovely face, and they share a breathtaking kiss, there is no turning back.
Hippopyta Royle is on the run. With the help of housekeeper Bridget Crumb, she has managed to escape a plot by the Duke of Montgomery to force her into marriage. Unfortunately, Hippolyta is still in danger as the Duke has sent his hounds to find her. Luckily she happens upon a carriage and begs for a lift to the next town. Covered in dirt, leaves, and who knows what else, Hippolyta looks like a homeless cat and not like the heiress that she is. It's no wonder then that the carriage's owner and occupant, Matthew Mortimer, doesn't believe her when she tells him her wild tale. He takes pity on her though and agrees to take her to the next village. As they travel, Hippolyta and Matthew trade barbs that disguise their growing attraction.
If you, like me, were left wondering what in the world happened to Hippolyta Royle after Bridget helped her escape in Duke of Sin, wonder no more. This little novella fills in the holes of what happened after her escape and her eventual return to England. Hippolyta has made several appearances throughout the Maiden Lane series and I've always wondered if she was going to get her own book. I was glad to see that she was at least getting a novella.
Unfortunately, I don't think that the short format really did justice to Hippolyta's story. It was still a fun read but the story suffered from what many novellas suffer from and it felt very rushed. While I am used to short courtships and romance novels, I did not feel that I got to know Matthew and Hippolyta enough before they were being married off. I was a little bit disappointed in Hippolyta's character. She comes off as a little whiny and she is constantly being rescued. First Bridget rescues her, then Matthew, then Matthew again. Just once I would have liked for her to have found her own way out of a jam instead of having someone swoop in to rescue her every time. She didn't have the gumption I really thought she would, or it was hidden pretty well.
As for Matthew, I didn't really get a clear sense of his personality in the short amount of time I had with him. He acts a bit of a jerk with Hippolyta when they first meet and he thinks that she might be manipulating him. He softens towards her eventually and is even quite gallant when the need calls for it. However, I was still lacking that leading man swoon that I usually get from Hoyt's heroes.
I really think Hippolyta and Matthew deserved a whole book instead of just a novella. The rushed story and lack of character development doesn't do these two characters justice and I would have liked to have seen more of their story. I would recommend it mostly for hardcore fans of the Maiden Lane series. Everyone else, I'd suggest picking up one of the full length novels first. Once you dive into this world, I think you'll want more. Moonlit probably just isn't the best place to start in the series.
*I received a copy of this book from the publisher in exchange for an honest review. This in no way affected my review or opinion of the book.