Hello, dear readers! Well it's been a couple of weeks since the insanity that is Comic-Con. I feel like it was all kind of a dream still but I am slowly getting back into real life. I had a really good con this year. It was another laid back year for me. I definitely had some panels and signings I wanted to get to but nothing I would be heartbroken about if missed. This year I focused on a lot of bookish and comics related panels with a few TV panels thrown in. I didn't get to any of the big film panels as those require way too much waiting for me and I was in enough lines as it was. I was a bit sad that I missed the Bob's Burgers panel again this year. Not for lack of trying but I guess I will need to get in line more than 4 hours in advance next year.  For the most part though I got to see what I wanted to see and have lots of new books, shows and comics that I am excited about. This post is going to focus on some of the television shows featured at Comic-Con this year.
Pilots
This year I caught a few new pilots that will be airing in the fall. I try to hit up the pilot screenings on preview night when many of them are screened. The first pilot I saw this year was Frequency, which will air on The CW. I was interested in this one because of the 2000 film starring Dennis Quaid and Jim Caviezel. I really liked the original film which is about a father (Quaid) and son (Caviezel) who end up being able to communicate with each other from 30 years apart through an old ham radio. Quaid's character is a firefighter who dies in a fire while his son is very young. Father and son end up being able to prevent the father's death but something they do changes the past so something happens to the mother. They must then figure out what they did and how to change it.
The pilot has a very similar premise except that it's a daughter (Mad Men's Peyton List) and father (Nashville's Riley Smith) who is a cop in the TV series instead of a firefighter. The pilot is pretty solid and List and Smith are both convincing in their roles. I am not sure if this will appeal to a wide audience or to people who never saw the original film, but I'd be willing to watch a few more episodes. The only thing that concerns me is that I don't really see a lot of longevity for the series. I could see it working as a mini-series but I am not sure where it could go after the initial story arc ends. I guess the two could work together from the past and present to solve other cold case crimes but time travel is tricky and once you start changing too much in the past, the consequences pile up in the future. That might be looking too far ahead though.  For now, I will just be checking out the first few episodes when they air later this year.
Next up is the pilot for Lethal Weapon (Fox), starring Damon Wayans (My Wife and Kids) and Clayne Crawford (Rectify).  While I am definitely a child of the 80's, I admit to not being the biggest fan of the Lethal Weapon franchise. Not that I dislike it, per se, but it's just never been one of my favorites. The 2016 television version stars Wayans as Murtagh, the slightly older, more seasoned, and more cautious police detective to Crawford's Riggs, his new partner and someone who doesn't care if he lives or dies following the death of his wife and child. Wayans and Crawford have good chemistry and their personalities play off of each other well. Since this is directed by McG, you can bet there are a plethora of large action sequences peppered throughout the pilot. The tone is both funny and serious at times and I can see this appealing to those who like cop dramas with a bit of a comedic twist. I don't know if I will be a regular viewer of this show but I would not mind catching an episode now and again when I want some mindless action to watch.
Timeless (NBC) is a science fiction drama that stars Goran Visnjic (ER) as a mysterious criminal who steals a time traveling device to go back into history to change the future. Once the theft is reported the case is handed over to the U.S. government who decide to send a small team of specialized personnel back in time in previous model time machine to follow Visnnjic and stop him. They send a history professor (Rectify's Abigail Spencer), a solder (Starcrossed's Matt Lanter), and a computer analyst/time machine navigator (Malcolm Barrett). The first episode finds the team going back to 1937 to the Hindenburg tragedy. This one was just meh for me.  I felt that the whole thing was a little bit far fetched and the plot predictable. I don't think I will be watching this one come fall.

Other shows
I ended up sitting in on theColony panel while waiting for Mr. Robot to start. Colony stars Lost's Josh Holloway and The Walking Dead's Sarah Wayne Callies who are living in the near future. They live in L.A., which is being controlled by outside forces and the city has been separated into factions with groups rebelling and others cooperating with the ruling powers. So I haven't actually seen Colony yet but I've been meaning to watch it. There weren't too many spoilers during the panel, even for a newbie like me, but hearing the cast and crew talk about the show definitely make me want to watch it. Plus, Josh Holloway is always nice to look at. :)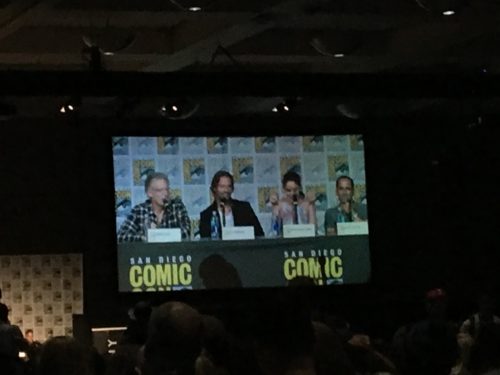 I was really excited to see the Mr. Robot panel. The panel included cast members  Rami Malek, Christian Slater,Portia Doubleday, Carly Chaikin and  Grace Gummer. I am actually a bit behind on Mr. Robot but I really wanted to get into the panel this year because I think it's going to be a lot harder to get into it next year. This was a really fun panel though. The cast was very funny and seemed genuinely happy and surprised by the show's success. The panel was moderated by Chris Hardwick, who is also very funny. During the panel it was revealed that out of all of the cast members, only Christian Slater played Pokemon Go.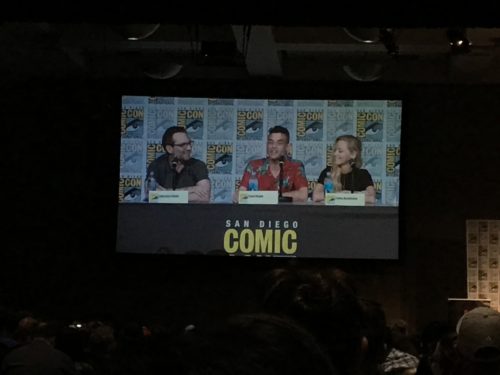 One of my favorite panels is the Archer panel. If you don't know, Archer is an amazing animated show on FX about a spy agency and it's trule wacky roster. Voice talent H. Jon Benjamin (Sterling Archer), Aisha Tyler (Lana Kane), Jessica Walter (Malory Archer), Chris Parnell (Cyril Figgis), Judy Greer (Cheryl/Carol Tunt), Amber Nash (Pam Poovey), and Lucky Yates (Dr. Algernop Krieger), plus creator/executive producer/writer Adam Reed (Ray Gillette), executive producer Matt Thompson and co-executive producer Casey Willis made up the panel. This upcoming season is entitled Archer: Dreamland and the panel teased us with some awesome clips. There was also some wrestling, lots of profanity, and some fun with sign language during the panel.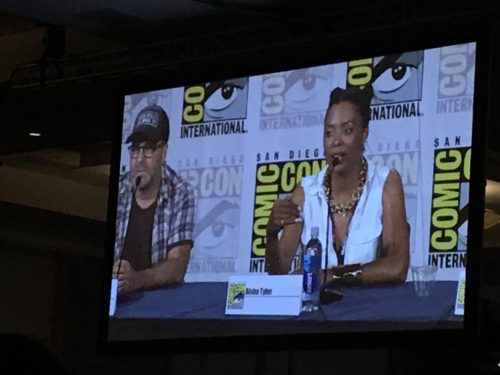 Ash vs Evil Dead was my last big TV panel of the con. I haven't actually seen this show yet but it's definitely on my to-watch list. I enjoy horror films and have heard really good things about the small screen adaptation of the cult movie series. On hand to talk about the series were Sam Raimi (executive producer), Rob Tapert (executive producer), Bruce Campbell(executive producer/Ash), Lucy Lawless (Ruby), Ray Santiago (Pablo), Dana DeLorenzo (Dana), Lee Majors (Brock Williams), and Ted Raimi (Chet Kaminski). I was quite excited to see Lucy Lawless, who I think it awesome. This was a hilarious panel, with Bruce Campbell giving out money every time one of the cast or audience members said something nice about him.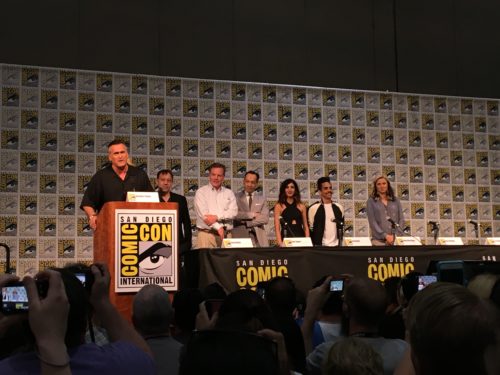 There was so much good TV at Comic-Con this year.I was also really interested in the panels for Orphan Black, iZombie, American Gods and Preacher, but my schedule just didn't work out for me to see them all.  Are you excited about any of these upcoming fall TV shows?