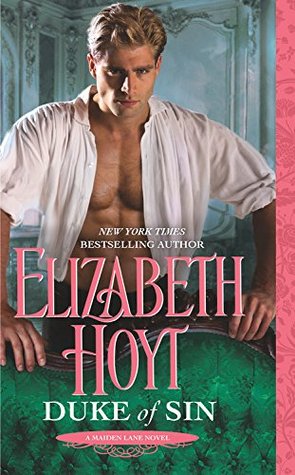 Title: Duke of Sin (Maiden Lane #10)
Author: Elizabeth Hoyt
Publication Date: May 31, 2016
Publisher:  Grand Central Publishing
Genre: Historical Romance
Find It: Goodreads, Amazon, B&N, Book Depository
Source: e-ARC from Netgalley
Rating: 4 stars – stay up late
A MAN OF SIN

Devastatingly handsome. Vain. Unscrupulous. Valentine Napier, the Duke of Montgomery, is the man London whispers about in boudoirs and back alleys. A notorious rake and blackmailer, Montgomery has returned from exile, intent on seeking revenge on those who have wronged him. But what he finds in his own bedroom may lay waste to all his plans.

A WOMAN OF HONOR

Born a bastard, housekeeper Bridget Crumb is clever, bold, and fiercely loyal. When her aristocratic mother becomes the target of extortion, Bridget joins the Duke of Montgomery's household to search for the incriminating evidence-and uncovers something far more dangerous.

A SECRET THAT THREATENS TO DESTROY THEM BOTH

Astonished by the deceptively prim-and surprisingly witty-domestic spy in his chambers, Montgomery is intrigued. And try as she might, Bridget can't resist the slyly charming duke. Now as the two begin their treacherous game of cat and mouse, they soon realize that they both have secrets-and neither may be as nefarious-or as innocent-as they appear.
I will admit that I was a bit skeptical when I heard that the Duke of Montgomery was getting his own book. Not that I didn't enjoy the devious and devilishly handsome troublemaker, but Val there are bad boys and then there's Val. He has caused quite a lot of mischief in the Maiden Lane series and I wasn't sure how Hoyt was going to turn him into the hero of this story. Changing too much of Val's character would seem disingenuous but could I root for someone who might be more villain than hero? It turns out that yes, yes I can.
I expected some kind of character transformation to make him more of a hero, but Val remains mostly unchanged throughout the book. He's still selfish, moody, conniving, and manipulative. He's also passionate, loyal, and extremely intelligent. He doesn't apologize for who he is and it just shows how good Hoyt is at crafting her characters that I still ended up rooting for him. While I did not always agree with his actions, the book gave me more insight into his character so that I could understand them. Val shows glimpses of goodness when it comes to his sister Eve, whom he is very protective of. And whileVal is not a kind man, as he points out, he nonetheless does many small, thoughtful things for Bridget throughout the book.
Bridget is the perfect foil for Val. She can be a bit devious herself when the situation calls for it. She isn't cowed by Val and is not afraid to put him in his place. While she is not Val's equal in social status, she is his equal in all other ways. She is a smart and extremely capable woman. They have amazing chemistry and the novel is rife with sexual tension.
The only thing that I didn't really like about the book was the lack of consequences for Val's actions and Bridget's ready acceptance of them. I didn't want him to change his ways completely because that would be unrealistic and he would stop being Val, but he gets away with a lot of things a little too easily.
Overall I really enjoyed Val and Bridget's story. Both Val and Bridget are unconventional characters who really compliment each other. I was really happy that they both found their happily ever afters and hope that this won't be the last we see of them.
*I received a copy of this book from the publisher in exchange for an honest review. This in no way affected my review or opinion of the book.