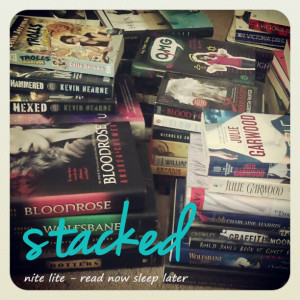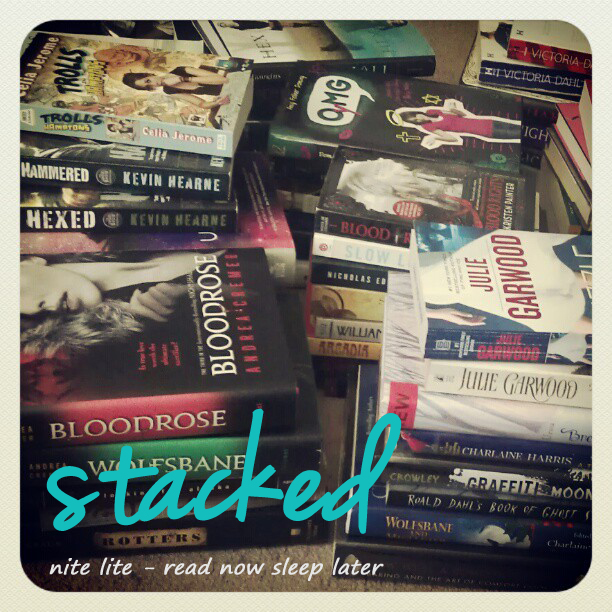 Hello and welcome to Stacked, a weekly (usually) post where I discuss what books I've recently bought, borrowed or received. Wow I just realized that I haven't had a Stacked post in quite a while.
Hi, everyone! Sorry I've been a bit MIA lately. I've had some car troubles recently that have taken up a lot of my time as well as just general life things. Good news is I think it's starting to quiet down now and I'll have a bit more time to read and blog. I haven't had as much time to read as usual, which has been a bummer. But it's getting into the summer now, which is always a good reading season for me. I don't know what it is but the good weather and more hours of daylight just seem to make me more productive. And I love reading outside when the weather is nice. Let's just hope it doesn't get to hot this year. :) I haven't been buying a lot of books lately and have been making good use of my local library. I popped by the other day and came back with the stack of books below.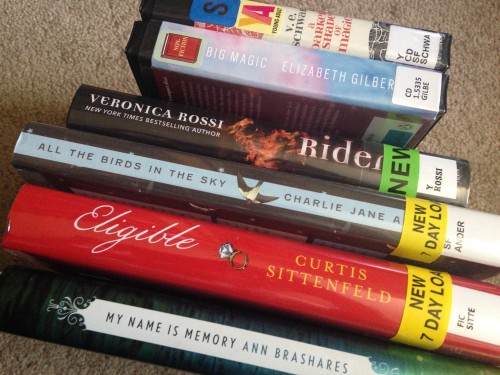 My Name is Memory by Ann Brashares – I picked this up at the used bookstore for $2 the other day. I've heard such good things about it. It's the story of one man falling in love with one woman over and over again, only to be ripped apart each time. It sounds a little heart wrenching but also intriguing. It better not make me cry.
Eligible by Curtis Sittenfeld – A modern re-telling of Pride and Prejudice, how could I resist?
All The Birds in the Sky by Charlie Jane Anders – It's sounds like a slightly magical end of the world story. The blurbs in the back looked promising and the cover was super cool, prompting me to take it home.
Riders by Veronica Rossi – New series from YA author Veronica Rossi. It's about a boy who wants to become an Army Ranger but then  has an accident. As he is recovering, he finds that he has strange new powers. Looks like this story was inspired by the Four Horsemen of the Apocalypse. I've enjoyed Rossi's books before so I hope I like this one.
Big Magic: Creative Living Beyond Fear by Elizabeth Gilbert (audio) -Another book I've been hearing a lot about. Author of Eat, Pray, Love is back with an inspirational book about creativity. I am not really sure what to expect with this one but hoping to be inspired by it.
A Darker Shade of Magic by VE Schwab – All of my friends have loved this series and I've managed to somehow not read it yet. I will be driving a few hundred miles soon and thought that this fantasy novel would be a good one to listen to on the drive.
What's on your summer reading list?