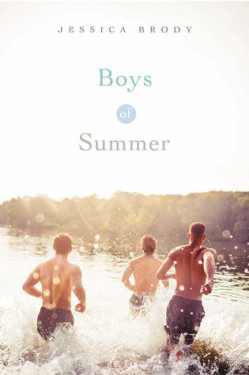 Title: Boys of Summer
Author: Jessica Brody
Publication Date: April 5, 2016
Publisher:  Simon Pulse
Genre: Contemporary, Young Adult
Find It: Goodreads, Amazon, B&N, Book Depository
Source: Borrowed
Rating: 3 stars – stick to your bedtime
Welcome to Winlock Harbor…

Best friends since they were kids, Grayson, Mike, and Ian were hoping for another epic summer on "The Locks", filled with clam bakes, bonfires, and late-night swims in the ocean.

But that was before Ian's dad never returned home from his last deployment. Before Mike had to take on more responsibility in order to help provide for his family. Before Grayson's accident left him with an injured throwing arm and an uncertain future.

It's clear this summer on the island is shaping up to be very different from those Grayson, Mike, and Ian have come to rely on. And when the sacred code of dating a friend's sister or ex is broken, it will push their friendship to the absolute limit, testing their loyalties in a way that could either break them—or save them.
Mike, Grayson and Ian are all looking forward to one last carefree summer before they move on from high school and start the next phase in their lives. Unfortunately a carefree summer isn't in the cards for any of them, each of them dealing with difficult circumstances as the summer begins. Grayson is hiding the fact that his mother has left the family and that a car accident may have left him unable to take his football scholarship. Mike's family is struggling to pay the bills so might must take on extra work over the summer, all while dealing with what could be a final break up with his on-again, off-again childhood sweetheart. Ian is trying to deal with this loss of his father as his mother spirals out of control. Can their childhood friendship survive the summer?
Beaches? Check. Best friends? Clam bakes? Check. Summer romance? Check. I'm not usually one for contemporary reads but the cover and the promise of a fun, summer read caught my attention. It refreshing to read a young adult book told from the viewpoints of three male protagonists. I was hoping I'd love this but ended up being more in like with it than in love. It's a very easy and fun read, but I had a few issues with the ending and how things resolved for each character.
While I liked all three of the main characters and felt that they all had defining characteristics, I did have a hard time telling them apart. I found myself checking the chapter title page more than once in order to figure out whose POV I was in. Once I got more into the book it was a little easier to tell them apart but it was hard at the beginning. All of them are dealing with some pretty heavy stuff but they seem to mostly ignore their problems until they all come to a dramatic culmination near the end of the book. We are supposed to believe these guys have been best friends for most of their lives but they're all quite happy ignoring the signs of distress in each other, too wrapped up in their own problems to notice what's going on with anyone else. This is probably closer to actual human behavior than not but I just wished that the guys had talked to each other more, especially after the big event at the end. It felt like things resolved too quickly and easily without anyone addressing any of the real issues.
I was looking for an easy summer read and this is exactly what Boys of Summer is. While I would have liked something that was a little more complicated, I enjoyed it and got wrapped up in the drama of The 'Locks along with everyone else. This book made me nostalgic for beaches and warm summer nights. I've never been to a place like Winlock Harbor but Brody does a great job of bringing the setting to life. If you're looking for a fun, fast summer read, Boys of Summer is a solid choice.