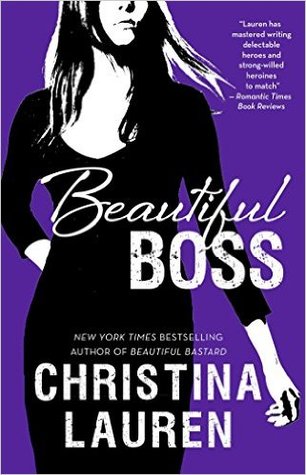 Title: Beautiful Boss (Beautiful Bastard #4.5)
Author: Christina Lauren
Publication Date: February 29, 2016
Publisher:  Pocket Star
Genre: Contemporary, Romance, Novella
Find It: Goodreads, Amazon, B&N, Book Depository
Source: Purchased
Rating: 4 stars – stay up late
One Player tamed. One nerd girl satisfied. And one more major life decision to make. When Will fell for Hanna, her quirky sense of humor and fierce dedication to her career were part of the attraction. (Not to mention her coy newbie attitude toward sex and her willingness to let him teach her everything.) But when the job offers start rolling in for her—and oh, they do—Hanna has trouble deciding what she wants, where they should live, and how much she should burden Will with the decision. Magic between the sheets is only one part of a relationship…getting on the same page is quite another altogether.
Thank you, Christina Lauren, for this sweet and sexy little story about Will and Hanna, one of my favorite couples from the Beautiful Bastard series. While I really do adore everyone in the series, Will and Hanna hold a special place in my heart. There was just something about their story and relationship that I fell in love from the start and I was so, so happy to hear that the author team were planning on writing a novella featuring the two.
Beautiful Boss begins the night before Will and Hanna's wedding. Hanna is having a few pre-wedding jitters but Will helps her forgot them.  I loved seeing these two finally tie the knot (not to mention peeking in on their super hot wedding night). But things aren't all roses in Will and Hanna's world. Hanna is almost done with grad school and needs to make some big decisions on what she wants to do next. The honeymoon is put on hold as Hanna travels to different universities to interview and decide where she wants to start her career. It seems like every prestigious university wants her. Will is excited and proud of her but also worried. Her choices will have a big impact on their future but Hanna isn't letting Will in on the process, leaving him frustrated and in limbo.
I liked that we got to see a different side to Hanna and Will's relationship. In a real relationship things aren't always easy. Hanna and Will learn to navigate the times when things aren't perfect. I loved how sweet and considerate they were towards each other. Will and Hanna are totally my example for relationship goals.
Of course, being a Christina Lauren story, there are plenty of hot, smexy scenes for the reader. Hanna and Will have amazing chemistry that shows throughout the book. There are also cameos by the other Beautiful couples including in hilarious scene involving too much tequila and a game of Truth or Dare.
I have huge love for this series and thoroughly enjoyed Beautiful Boss. If you love Hanna and Will as much as I do then Beautiful Boss this is a must read.