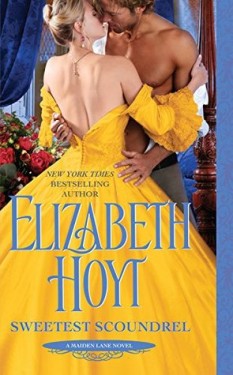 Title: The Sweetest Scoundrel (Maiden Lane #9)
Author: Elizabeth Hoyt
Publication Date: November 24, 2015
Publisher:  Ten Speed Press
Genre: Historical Romance
Find It: Goodreads, Amazon, B&N, Book Depository
Source: Purchased
Rating: 4 stars – stay up all late
SHE'S TAKING CHARGE

Prim, proper, and thrifty, Eve Dinwoody is all business when it comes to protecting her brother's investment. But when she agrees to control the purse strings of London's premier pleasure garden, Harte's Folly, she finds herself butting heads with an infuriating scoundrel who can't be controlled.

HE'S RUNNING THE SHOW

Bawdy and bold, Asa Makepeace doesn't have time for a penny-pinching prude like Eve. As the garden's larger-than-life owner, he's already dealing with self-centered sopranos and temperamental tenors. He's not about to let an aristocratic woman boss him around . . . no matter how enticing she is.

BUT LOVE CONQUERS ALL

In spite of her lack of theatrical experience—and her fiery clashes with Asa—Eve is determined to turn Harte's Folly into a smashing success. But the harder she tries to manage the stubborn rake, the harder it is to ignore his seductive charm and raw magnetism. There's no denying the smoldering fire between them—and trying to put it out would be the greatest folly of all.
Eve Dinwoody is a proper lady. Demure, polite, and all business when it comes to protecting her brother's investment at Harte's Folly, she has no patience for the sinfully handsome and sensual Asa Makepeace (aka Mr. Harte). Dubious of Harte's commitment to the reconstruction of the pleasure garden after a fire, Eve threatens to cut Asa's purse strings unless he can show progress on the garden. To keep an even closer eye on things, Eve decides to take over the accounting for the project, a bigger task than she'd anticipated. Unfortunately that puts her right into the path of the rough and bawdy garden owner. However, Eve soon finds that Asa's temper and brute strength are just one side of him. The other side seductive, charming, and protective when it comes to those he cares about. These two who seem to have nothing in common share more than either is willing to admit and their reluctant friendship soon grows into a passionate romance that neither is prepared for.
I was originally prepared to dislike Asa Makepeace. I remembered him from previous books in the series and could not think of anything that really recommended him to me. I thought that Hoyt was going to have a hard time making him the hero of this story. I never should have doubted Hoyt though, as she manages to make Asa a compassionate and compelling hero that any heroine would fall for. He's still the bawdy theater owner we've all come to know, but he is more than that. He's smart, funny, and extremely driven. He started with nothing and built the gardens into a grand success. He also has a very chivalrous side that comes out as his relationship with Eve evolved.
At first, Eve seems like your typical prim and proper English rose. However, she has a lot of passion and fire in her that often comes out when she is arguing with Asa. She isn't afraid to speak her mind and stand up for hersulf. She has suffered a trauma in the past and she has worked very hard to overcome it.
The relationship between Asa and Eve is fraught with tension. One of my favorite romance tropes is the love/hate relationship. The battling of wits and tempers eventually becomes reluctant admiration and then into passion. Because of Eve's past trauma, the physical side of their relationship takes a little longer to develop. However, Hoyt thinks of some pretty imaginative ways for the two to express themselves that are just as hot and steamy. Their scenes are filled with sexual tension and, when they finally do get together, it's well worth the wait.
This is the ninth book in the Maiden Lane series and Hoyt continues to delight and surprise her readers. Each couple is unique and I look forward to each installment. I have to say that I am pretty curious about the next book. I thought Asa was pretty unlikable at first but he has nothing on the Duke of Wakefield, who is the focus of the next book. But experience has taught me not to underestimate Elizabeth Hoyt. I am sure she will find a way to make me fall in love with the devilish duke. The next story also feature Bridget Crumb, whom I find to be quite fascinating and mysterious. I can't wait to see how their story plays out!