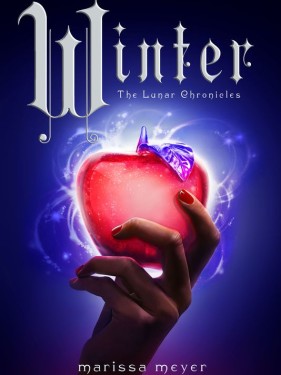 Title: Winter (The Lunar Chronicles #4)
Author: Marissa Meyer
Publication Date: November 10, 2015
Publisher:  Feiwel and Friends
Genre: Romance, Sci-Fi, Young Adult
Find It: Goodreads, Amazon, B&N, Book Depository
Source: Purchased
Rating: 5 stars – stay up all night
Princess Winter is admired by the Lunar people for her grace and kindness, and despite the scars that mar her face, her beauty is said to be even more breathtaking than that of her stepmother, Queen Levana.

Winter despises her stepmother, and knows Levana won't approve of her feelings for her childhood friend—the handsome palace guard, Jacin. But Winter isn't as weak as Levana believes her to be and she's been undermining her stepmother's wishes for years. Together with the cyborg mechanic, Cinder, and her allies, Winter might even have the power to launch a revolution and win a war that's been raging for far too long.

Can Cinder, Scarlet, Cress, and Winter defeat Levana and find their happily ever afters?
*May contain spoilers for other books in the series.
There's really no way to sum up this epic tome that is the grand finale of The Lunar Chronicles, but I'll do my best. Fans of TLC will not be disappointed with this one. Yes, it's over 800 pages long but no words are wasted. Everything that happens in the book happens for a reason and leads up to the breathless conclusion. Meyer really takes her time with this book and crafts a deft narratives that weaves together many different characters and storylines.
As with all of TLC books, Winter is based on a classic fairy tale. This time it's Snow White with Winter cast as Snow and Levana as the ultimate evil stepmother. Cinder is trying to overthrow Levana and end her terrible reign but she's going to need all of her friends (and a few more) to do it. I've always been a fan of ensemble pieces and TLC has a great cast of characters, each bringing their own unique skills and personalities to the mix.
Cress and Thorne were my least favorite characters in the series before starting Winter, but they both came into their own during the course of this book. And while their romance felt a bit forced before, it felt much more natural in Winter and I really started to root for them. I also loved Winter and Jacin. Both of them were fantastic characters with strong convictions. I especially admired Winter for refusing to use her powers, even though it was slowly driving her mad. My favorite pair is Scarlet and Wolf though. Both have endured so much throughout the series. Meyer doesn't go easy on them in this one but everything they go through makes them stronger and solidifies their bond.
Of course I can't forget Kai and Cinder. I love how Cinder has grown throughout the series. From a poor mechanic to the rebel leader, Cinder has been the glue that has held everyone together. I love her because she isn't perfect. She doesn't always know what to do or the right thing to say. She falls down but she always gets back up. Even in the worst of times, Cinder doesn't give up. Though they've come from vastly different circumstances, Kai and Cinder have much in common. They both feel a huge responsibility for their people and are willing to fight for what they believe it right.
The only bad thing about this book is that it had to end. I am really going to miss this world and these characters. While the series is done, I am happy to report that Meyer is releasing a collection of short stories set in The Lunar Chronicles world this coming February. Stars Above will include 9 short stories (5 of them never released). That will help lessen the loss a little bit. Thank you, Marissa Meyer, for creating this wonderful world and for taking us on this amazing journey.