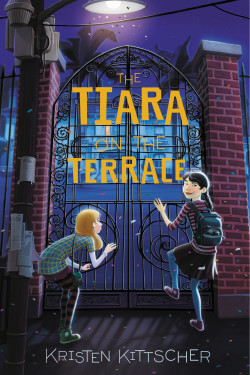 Title: The Tiara On the Terrace (Young and Yang #2)
Author: Kristen Kittscher
Publication Date: January 5, 2016
Publisher:  HarperCollins
Genre: Middle Grade, Mystery
Find It: Goodreads, Amazon, B&N, Book Depository
Source: ARC received from publisher
Rating: 4 stars – stay up later
In this funny, clever novel, perfect for fans of Pseudonymous Bosch and Gordon Korman and a companion to The Wig in the Window, tween sleuths Sophie Young and Grace Yang go undercover at Luna Vista's Winter Sun Festival to catch a murderer before he—or she—strikes again.

Sophie Young and Grace Yang have been taking it easy ever since they solved the biggest crime Luna Vista had ever seen. But things might get interesting again now that everyone is gearing up for the 125th annual Winter Sun Festival—a town tradition that involves floats, a parade, and a Royal Court made up of local high school girls.

When Festival president Jim Steptoe turns up dead on the first day of parade preparations, the police blame a malfunctioning giant s'more feature on the campfire-themed float. But the two sleuths are convinced the mysterious death wasn't an accident.

Young and Yang must trade their high tops for high heels and infiltrate the Royal Court to solve the case. But if they fail, they might just be the next victims.
The Tiara On the Terrace is a delightful follow up to the charming middle grade mystery, The Wig in the Window. Tiara follows the exploits of best friends Sophie Young and Grace Young who enjoy spy games and recently became town heroes when they captured a killer in their idyllic hometown of Luna Vista. Young and Yang are content to stay away from too much excitement for a while when a mystery falls right into their laps. The president of the Winter Sun Festival, the biggest and most revered annual event in Luna Vista, is found dead one morning in the float barn from an apparent accidental animatronic marshmallow malfunction. While everyone else accepts the tragedy as a freak accident, Young and Yang aren't so sure, as the clues don't quite add up. In order to solve the mystery, the two must embark on possibly their must difficult mission yet – infiltrate the Winter Sun royal court and catch the killer before he strikes again!
Let me start this off by staying that I know the author of this book. We became friendly a few years ago when The Wig in the Window was first released. I became a fan after reading Wig and was excited to hear that Young and Yang's adventures would continue in another book. Well. it took almost three years for the sequel to come out, but it was worth the wait. Now I don't normally read a lot of middle grade, but Young and Yang's unique bond and strong friendship are what drew me to the series. Kittscher's portrayal of adolescent friendship is spot on and I could relate to Sophie's feelings of insecurity and fear. In Tiara, she has to go outside of her comfort zone to join the royal court of the Winter Sun Festival. Sophie doesn't feel like she fits into this group whose interests are so different than hers and feels that Grace is pulling away from her.
Besides the amazing friendship, there's also a mystery to solve! As with Wig, the mystery in Tiara is full of twists and turns, keeping you in the dark about who the killer is until the very end. While I have never been to the Rose Parade (on which the Winter Sun Festival is loosely based), I enjoyed the parade setting and learning all about the ins and ours of such a large and event. I enjoyed the creative float themes and all of the pageant politics. I loved how real the friendship between Grace and Sophie felt, with its ups and downs. The book is also filled with fantastic supporting characters, each with distinct personalities. Trista Bottoms was a personal favorite.
If you like a good mystery filled with intrigue and drama, laced with wit, charm and a lot of heart, then The Tiara On the Terrace is for you. This is a book that readers of all ages can enjoy and I hope to see more of Grace, Sophie and Trista in the future.
*I received a copy of this book from the publisher in exchange for an honest review. This in no way affected my review or opinion of the book.