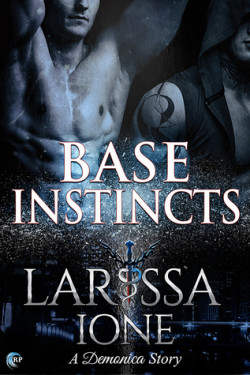 Title: Base Instincts (Demonica #11.7)
Author: Larissa Ione
Publication Date: September 12, 2015
Publisher: Riptide Publishing
Genre: Paranormal Romance, Urban Fantasy
Find It: Goodreads, Amazon, B&N, iBooks, Kobo
Source: review copy from Netgalley
Rating: 3 stars – stick to your bedtime
As a Seminus demon, Raze's life literally depends on having sex with females. The problem is that he doesn't desire females, and it's physically impossible for him to be with males. Thankfully, he and his best friend, Fayle, have an arrangement that keeps him alive . . . if lonely. He finds some solace in his work as a medic at Thirst, a vampire club known for its rough clientele. But his carefully structured world turns upside down when he meets a mysterious male who makes him want what he can never have.

Slake is an assassin used to getting what he wants, and what he wants is Raze. But he also wants to earn back the soul he sold when he was a much different demon. All he has to do is capture a runaway succubus named Fayle and hand her over to her family. What he doesn't count on is being caught himself by a web of lies—and his attraction to Raze.

Raze and Slake must navigate a dangerous world to be together. But as Fayle's jealousy of their relationship turns deadly, they find themselves embroiled in a battle not only for their love, but their lives and souls.
Base Instincts is a novella set in Ione's Demonica series. If you haven't read the series yet, there aren't any huge spoilers in this one, though I would highly recommend going back and starting at the beginning of the series because it's awesome. Base Instincts focuses on Raze, a medic at Underworld General, a hospital that caters to all demons, good or bad, in a fair manner. Raze is a Seminus demon (yes, you read that right) and his species must have sex in order to survive. Unfortunately biology has also mandated that Seminus demons must have sex with the opposite sex or face debilitating pain or death. This is bad news for Raze because he isn't attracted to females. Raze has resigned himself to a life without love and of having sex with a female he doesn't like very much in order to just survive. Then he meets Slake, a male who stirs in him feelings he isn't prepared for and makes him long for impossible things.
The premise of this story really intrigued me because, as a fan of the Demonica series, I knew that a relationship between two males would not work in the case of Seminus demons. The rules of the world were already set and I wasn't really sure how Ione was going to write herself out of this corner. I am happy to say though that she did a good job of working around the rules to make this relationship work in a believable way. I was afraid that the reasoning behind it was going to feel too forced or contrived but I didn't feel that way at all.
I am giving this a slightly lower rating only because the story felt a little rushed, especially the ending. There was a lot of information and story to put into a shorter format and I think the characters could have used a little more time to get to know each other and solidify their relationship. I also would have liked to know more about Slake's demon species. It plays a big role in the story and I just would have liked more background on his past and the species itself.
I really liked both Raze and Slake. They're both tough guys with soft, gooey centers (but don't tell them I said that!). I especially felt for Raze, since he had lost all hope of ever being able to have a real relationship. They had great chemistry and I hope they make another appearance down the line in another book. It was also great to see some of my Demonica faves like E and Revenant (who is still kind of a tool.).
While this wasn't my favorite Demonica story, I still had a lot of fun reading it and applaud Ione for shaking up the rules of her world a bit. If you like great world building and sexy demons, do yourself a favor and read the Demonica series!
*I received a copy of this book from the publisher in exchange for an honest review. This in no way affected my review or opinion of the book.