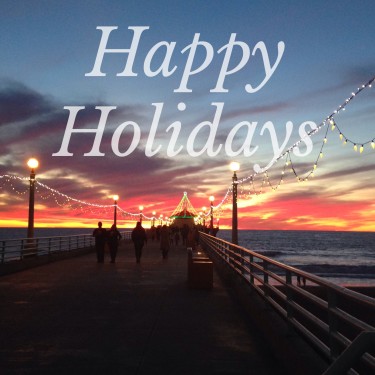 Happy holidays from all of us at Nite Lite HQ. It's been a wonderful year of books, movies, and bookish events and we are so happy we've been able to share it with you all. It will probably be quiet around here for a bit as we all take a break and wind down at the end of the year. This means more reading time though, which I am really looking forward to. Here's a little run down of what I will be doing during the holiday break.
Reading: Currently reading Clean Sweep and Sweep in Peace, two self-published Ilona Andrews books about an innkeeper with magical powers. I am enjoying this a lot more than I anticipated. Not that I don't always love Ilona Andrews, but I really had no idea what this series was about when I started. The world building is solid and, as usual, Andrews writes a fantastic female protagonist. After SiP I am probably going to start The Tiara on the Terrace by Kristen Kittscher, a middle grade novel about two best friends who solve mysteries in their town.
Watching: Currently getting my Christmas movie jam on. In rotation are Die Hard, Elf, The Holiday, How the Grinch Stole Christmas (original animated version) and the Christmas episodes of Bob's Burgers. This Christmas' movie releases aren't really exciting me though I may take my parents to see Star Wars (which I've already seen). I definitely think it warrants a second viewing.
Eating: What am I not eating? Visiting family means eating a lot of mom's home cooking which includes lots of traditional Vietnamese fare like pho, egg rolls, chow mein, and other amazing things. So far I've also had a lot of coffee and I plan to have lots and lots of bubble tea from my favorite local shops. Sadly, my cookie game isn't so great. My parents don't usually have a lot of sweets around so I have to find them elsewhere. I didn't have time to bake before going out of town, but I may need to rectify that after the holidays.
That's what will be keeping me busy this holiday season. I'd love to hear about what you guys are up to during the holidays. Let me know if you have any favorite books, movies or foods that you like to enjoy during the season. Hope you all have a fun and safe holiday!