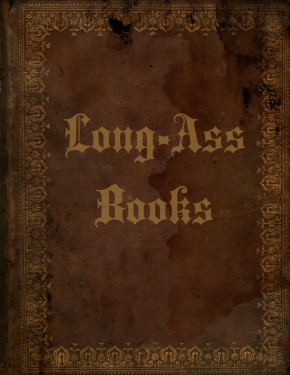 I love a well written long-ass book; something I can really sink my teeth into, connect with all the characters and just fall in love with! Now what do I consider a long-ass book? Any book that is over 500 pages. As of now, 2016 doesn't look as crazy as 2015 partly because my wedding is over and all of my big wedding things (engagement part, bridal shower and bachelorette party) all took place in 2015. Now I have all this time to read! So let me tell you about the ten long-ass books that I want to read next year!
[slideshow_deploy id='6773′]
1. Carry On by Rainbow Rowell
Page Count: 522
I have been so busy getting married and honeymooning that I didn't even realize this came out! I just bought it because I love Rainbow Rowell, I love Fangirl and I can't wait to dive into this exciting Simon Snow story! At just over 500 pages it is definitely the shortest book on this list!
2. Gone With the Wind by Margaret Mitchell
Page Count: 959
Wow that is a long-ass book! My whole life my mom has always told me how much she loves Gone With the Wind and that it's her favorite book. My mom has great taste in book and I would love to read her favorite!
3. The Crimson Petal and the White by Michel Faber
Page Count: 900
I love historical fiction, especially books set before the 1850 and I've only heard that Faber is a great writer! It sounds like a character driven book which can be kind of slow at times but I definitely want to give it a chance!
4. The Wind-Up Bird Chronicle by Haruki Murakami
Page Count: 607
Another author that I've heard is absolutely wonderful and a must read at some point in your life. And that time in 2016! I hope that I just fall in love with Murakami and begin a committed relationship with his books! He has so many novels and I would love to read them all!
5. Queen of Shadows by Sarah J. Maas
Page Count: 648
I love the Throne of Glass series. So naturally, I pre-ordered Queen of Shadows months before it was released and received it the day it was released. Being the nice person that I am, I let my mom borrow it to read it first. SHE STILL HAS IT! And she hasn't read it yet! So I will definitely be reading it when she finally finishes it.
6. Shantaram by Gregory David Roberts
Page Count: 933
Although Shantaram was published in 2003, it is a new to me novel when I heard a booktuber talking about it. It's about an escaped convict living in the underbelly of Bombay, India and his life as it unfolds while he tries to keep himself hidden. Sounds like a lot of bad things happen to him and it seems like it's right up my alley.
7. Jonathan Strange and Mr. Norrell by Susanna Clarke
Page Count: 846
Magic among gentlemen in the early 19th century in London. Yes please!
8. The Passage by Justin Cronin
Page Count: 766
A girl in my book club read The Passage a couple years ago and said it was absolutely fabulous! The fact that she loved it has stayed with me all these years and I've been meaning to read it for a long time.
9. The Fiery Cross by Diana Gabeldon
Page Count: 1443
Coming in at almost 1500 pages, The Fiery Cross is a book I can't wait to get to! It's no secret that I am in love with all things Outlander and as I type this, I am working my way through the fourth Outlander book, Drums of Autumn. I will definitely be finishing Drums of Autumn by the end of this year and moving right along through the series!
10. The Harry Potter Series by JK Rowling
The Harry Potter books start to become long-ass books after the third one and I plan on doing another Harry Potter reread next year. 2016 is going to be a big year for Harry Potter here in California with the opening of The Wizarding World of Harry Potter at Universal and I feel the need to dive back into the series.