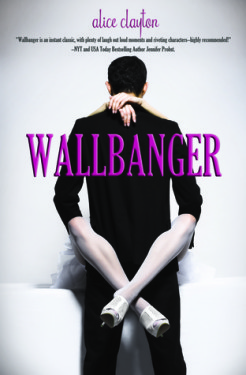 Title: Wallbanger (Cocktail #1)
Author: Alice Clayton
Publication Date: October 24, 2012
Publisher:  Simon & Schuster
Genre: Contemporary Romance
Find It: Goodreads, Amazon, B&N, Book Depository
Source: Purchased
Rating: 4 stars – stay up late
The first night after Caroline moves into her fantastic new San Francisco apartment, she realizes she's gaining an intimate knowledge of her new neighbor's nocturnal adventures. Thanks to paper-thin walls and the guy's athletic prowess, she can hear not just his bed banging against the wall but the ecstatic response of what seems (as loud night after loud night goes by) like an endless parade of women. And since Caroline is currently on a self-imposed dating hiatus, and her neighbor is clearly lethally attractive to women, she finds her fantasies keep her awake even longer than the noise. So when the wallbanging threatens to literally bounce her out of bed, Caroline, clad in sexual frustration and a pink baby-doll nightie, confronts Simon Parker, her heard-but-never-seen neighbor. The tension between them is as thick as the walls are thin, and the results just as mixed. Suddenly, Caroline is finding she may have discovered a whole new definition of neighborly…

In a delicious mix of silly and steamy, Alice Clayton dishes out a hot and hilarious tale of exasperation at first sight.
A new apartment is a dream come true for interior designer Caroline. The apartment is perfect in every way except for one – her new neighbor has a very active social schedule and she has very thin walls. Caroline can hear every moan, giggle and bang coming from the apartment next door. Unable to take another sleepless night, Caroline confronts her neighbor. What begins as annoyance soon grows into friendship. With the tension running high between the two, will Caroline and Simon become more than just friends?
I thought this was going to be just a fluffy, fun romance that would be a quick read. It was still fun and sexy but also surprisingly sweet and funny. I didn't expect to fall for Caroline and Simon as hard as I did. Their relationship really grows throughout the book – from enemies to friends, to best friends and finally, to lovers. I read a lot of romances it's usually about the couple getting together and then working backwards trying to figure out how to make a relationship work. With Caroline and Simon, their friendship is slowly developed until, by the time they do get together, you're really dying for it and you know they're going to have a really solid relationship.
Both Simon and Caroline are fantastic characters that I grew to love for different reasons. I like how independent Caroline was. She didn't need a guy to make her feel good about herself and she gave as good as she got when it came to Simon. I loved their arguments and their conversations. Simon is, of course, extremely sexy. He's also smart, funny and passionate about his work. Even though he had a reputation as being a wallbanger, he respected his lovers and treated them all well. His addiction to breakfast breads is endearing and I, for one, would not mind baking for someone like him.
If you're looking for a funnu and surprisingly sweet romance, then Wallbanger is the book for you. You'll laugh out loud and fall in love with Simon and Caroline. As Simon would say, this book gives good woo. Bonus points for the hilarious scene featuring Clive the cat at the end of the book.