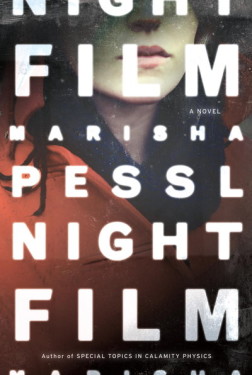 Title: Night Film
Author: Marisha Pessl
Publication Date: August 20, 2013
Publisher:  Random House
Genre: Adult Fiction, Suspense/Thriller
Find It: Goodreads, Amazon, B&N, Book Depository
Source: Purchased
Rating: 4 stars – stay up late
Everybody has a Cordova story. Cult horror director Stanislas Cordova hasn't been seen in public since 1977. To his fans he is an engima. To journalist Scott McGrath he is the enemy. To Ashley he was a father.

On a damp October night the body of young, beautiful Ashley Cordova is found in an abandoned warehouse in lower Manhattan. Her suicide appears to be the latest tragedy to hit a severely cursed dynasty.

For McGrath, another death connected to the legendary director seems more than a coincidence. Driven by revenge, curiosity and a need for the truth, he finds himself pulled into a hypnotic, disorientating world, where almost everyone seems afraid.

The last time McGrath got close to exposing Cordova, he lost his marriage and his career. This time he could lose his grip on reality.
Night Film haunted me for almost a year with just the title and the cover alone. When it first popped up on my radar I was instantly drawn to it. I'm always down to read a good slow build mystery that has me guessing around every corner. When the story is really well written, I like to feel as if I'm the main character playing detective and trying to figure out the "who done it". Night Film by Marisha Pessl literally had me hooked from the first page and left me completely in the dark (in a good way) throughout the whole of the story!
Although Night Film is told from the main character Scott McGrath's perspective, the story really revolves around elusive horror filmmaker Cordova and his daughter Ashley Cordova, who (#NoSpoilers) is found dead in the first chapter. Cordova is so elusive that he has not appeared in public nor has he given any interviews since the 70's. Not much is known about his family and/or public life and almost every actor who has appeared in his films were all very hush hush. McGrath, having had a few Cordova run ins in the past, decides to take it upon himself to figure out if Ashley committed suicide or was murdered. From there the clues start rolling in and the trail goes up some pretty creepy avenues and down paths I would never have imagined.
What makes Night Film especially great is the atmosphere; the shadowy streets of New York at night, the falling down estate in the middle of nowhere, the secret nightclubs and abandoned buildings. The book itself is literally beautiful. The pages are like pages of a textbook and newspaper articles, online articles, handwritten notes and photographs are inserted throughout the novel which add to the whole creepiness of the story.
Night Film is a must read for anyone who loves horror. It's a book that is definitely going to stay with me for a long time and a beautiful book, in general, to add to my collection.