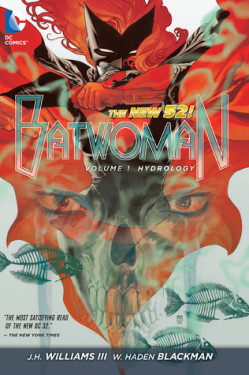 Title: Batwoman, Vol. 1: Hydrology
Author: J.H. Williams III, W. Haden Blackman
Artist: J.H. Williams III, Amy Reeder
Publication Date: June 19, 2012
Publisher:  DC Comics
Genre: Comics/Graphic Novels
Find It: Goodreads, Amazon, B&N, Book Depository
Source: Library
Rating: 3 stars – stick to your bedtime
As a part of the acclaimed DC Comics–The New 52 event of September 2011, Batwoman's new series finally begins! The creative team of J.H. Williams III and W. Haden Blackman launch the ongoing "Batwoman" series, as Batwoman (a.ka. Kate Kane) faces deadly new challenges in her war against Gotham City's underworld-and new trials in her personal life.Who or what is stealing children from the barrio, and for what vile purpose? Will Kate train her cousin, Bette Kane (a.k.a. Flamebird), as her new sidekick? How will she handle unsettling revelations about her father, Colonel Jacob Kane? And why is a certain government agency suddenly taking an interest in her? These are some of the questions that will be answered in this long-awaited series!

This deluxe hardcover colllect issues 0-5 of "Batwoman," part of the DC Comics–The New 52 event.
Children are disappearing from Gotham and people are whispering that it's the ghost of woman haunted by her children's deaths. Kate Kane (aka Batwoman) doesn't know who's taking the children, but she is on a mission to find them and bring them back to their families. Along the way she must deal with a secret government agency who wants to unmask her, a recruitment offer from Batman, training her young cousin (aka Flamebird) on the finer points of being a vigilante, and dating a police officer who doesn't know that she dons a mask at night.
I really had no knowledge of Batwoman before picking up this collection. I'd read some of Gail Simone's run on Batgirl recently, where Batwoman makes an appearance, which piqued my interest in her. I found the first volume at my local library and was immediately struck by the artwork. JH Williams has some serious artistic chops and the artwork and covers for this series are gorgeous. The splash pages are especially beautiful and Williams isn't afraid to play with panel layout. There's a painterly quality to much of his work, giving it a very fluid and dynamic feel.
The story was very much an intro story and it gives the reader a sort of Cliff Notes version of Batwoman. As a newcomer to the character, I appreciated this but I felt like I was still missing a lot of information – like when and why did Kane become a vigilante, why did she name herself Batwoman if she didn't want to be associated with Batman, does she have a day job, and why is she so pale (did she get dumped in a vat of acid like Harley Quinn)?
The book gives the reader a good sense of Kane's moral compass though I am still a little unclear about her motivation. She was the victim of terrorists as a child which might be the reason for her donning a mask and fighting crime, but I think there might be more. She definitely has a lot of anger and it'll be interesting to see how she works through it as the series goes on. This volume just scratches the surface of her character and, while I wish I had a better understanding of her, it's enough to compel me to read more. It was also refreshing to read about an openly gay character. I am interested to see where here relationship with Maggie goes and how she maneuvers that around her secret life.
Overall, I enjoyed the story though I still don't feel like I know who Batwoman is. It might be a little unrealistic to expect to know her well after only 5-6 issues but I feel like they could have given us a little more. The main storyline with the kidnapped children also doesn't get resolved within this collection, so I am hoping that gets wrapped up in the next volume. The artwork is fantastic though and that makes up for my frustration a bit. There's enough here to compel me to read the next volume but it's going to have to give me more in order to keep me as a reader.