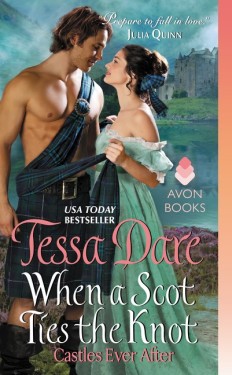 Title: When a Scot Ties the Knot (Castles Ever After #3)
Author: Tessa Dare
Publication Date: August 25, 2015
Publisher:  Avon
Genre: Historical Romance
Find It: Goodreads, Amazon, B&N, Book Depository
Source: e-ARC from Edelweiss
Rating: 4 stars – stay up late
On the cusp of her first London season, Miss Madeline Gracechurch was shyly pretty and talented with a drawing pencil, but hopelessly awkward with gentlemen. She was certain to be a dismal failure on the London marriage mart. So Maddie did what generations of shy, awkward young ladies have done: she invented a sweetheart.

A Scottish sweetheart. One who was handsome and honorable and devoted to her, but conveniently never around. Maddie poured her heart into writing the imaginary Captain MacKenzie letter after letter … and by pretending to be devastated when he was (not really) killed in battle, she managed to avoid the pressures of London society entirely.

Until years later, when this kilted Highland lover of her imaginings shows up in the flesh. The real Captain Logan MacKenzie arrives on her doorstep—handsome as anything, but not entirely honorable. He's wounded, jaded, in possession of her letters… and ready to make good on every promise Maddie never expected to keep.
Unlike most young ladies of her acquaintance, Miss Madeline Gracechurch does not wish for a London season. Spending countless hours at balls and parties in the hopes of finding a husband is not something that Maddie, shy and sometime awkward, is looking forward to. Instead, while on holiday before her first season, Maddie invents a dashing Scottish soldier who sweeps her off her feet and asks for her hand in marriage. Betrothed, Maddie is no longer on the marriage mart. The only problem is, her Scottish beau doesn't exist. In order to make the ruse believable, Maddie begins to write letters to "Captain Logan MacKenzie." Years pass and finally, unable to continue the farce any longer, Maddie "kills" her captain and is given a castle to live the remainder of her days as a spinster, which suits Maddie just fine. Just when Maddie thought her life was settling down, the fictitious Capt MacKenzie appears at her door with a troop of weary soldiers and her letters. It appears that her fake fiance is very real and has come looking for his bride.
When a Scot Ties the Knot is the third book in Tessa Dare's Castles Ever After series and follows the others in being a true delight to read. It features my favorite kind of heroine – sometimes shy, a little unconventional, smart and very independent. She has a very big heart, as evidenced in the way the she interacts with Logan's men. Many of them have been damaged both physically and mentally by the war and she treats them all with respect and compassion. I liked that she had other interests besides just running a household. She has a burgeoning career as an illustrator, which Logan supports and is quite proud of.
Men in kilts are pretty irresistible and Logan stole my heart from the very start. Under his rough exterior is a wounded man, a soldier without a home. His loyalty to his men is admirable and he'll do what it takes to protect them. Though Maddie did not know it at the time, it was her letters that helped him survive the war. He's already a bit in love with Maddie by the time he arrives on her doorstep.
While neither of them might admit it, both Maddie and Logan have led lonely lives. Logan doesn't have any real family except for his men and Maddie has shut herself away from much of society. The circumstances force both of them to open themselves up to another person. Maddie gives Logan a home that he's always longed for, full of warmth and laughter. Logan challenges Maddie to step outside her comfort zone and to pursue her dreams of illustrating. Their fictional romance soon becomes a real one and I had so much fun watching them fall for each other.
When a Scot Ties the Knot was a pleasure to read from beginning to end. If you like quirky heroines, men in kilts, and smart romances with a lot of heart, do yourself a favor and check out this book (and the rest of the series, too)!
*I received a copy of this book from the publisher in exchange for an honest review. This in no way affected my review or opinion of the book.