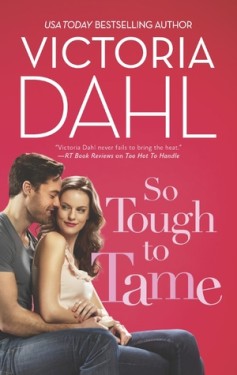 Title: So Tough To Tame (Jackson Hole #3)
Author: Victoria Dahl
Publication Date: September 24, 2013
Publisher:  Harlequin
Genre: Contemporary Romance
Find It: Goodreads, Amazon, B&N, Book Depository
Source: e-ARC from publisher
Rating: 2 stars – you are getting very sleepy
Tough to tame, but not too tough to love… Charlie Allington is supposed to be on the fast track to the top-a small-town girl who was making it big in her career. Instead, she's reeling from a scandal that's pretty much burned all her bridges. Now, out of options, she needs a place to lick her wounds and figure out her future. True, working at a ski resort in rugged Jackson Hole, Wyoming, isn't her dream job. But if there's one perk to coming back, it's a certain sexy hometown boy who knows how to make a girl feel welcome. 

Cowboy Walker Pearce never expected a grown-up Charlie to be temptation in tight jeans. She's smart and successful-way out of league for a man like him. But he's not about to let that, or his secrets, get in the way of their blazing-hot attraction. Yet when passion turns to something more, will the truth-about both of them-send her out of his life for good…or into his arms forever?
Charlie Allington was a small town girl who made it big and moved to the big city…until a scandal ruins her prospects and she's forced to take the only job she can get, at a resort in her home town. While she's not too happy with being back, one small perk is Walker Pearce, the boy that everyone had a crush on in high school. Charlie's no longer the shy, bookish girl she used to be and is ready to show Walker that she's all grown up.
This romance fell a bit flat for me. I normally enjoy Dahl's sweet, contemporary romances. The Jackson Hole series has a great small town feel and an eccentric cast of characters. For some reason though, I never really felt the connection between Walker and Charlie. They had great physical chemistry but they were both keeping too many secrets from the other. Walker was extremely stubborn which was endearing but also frustrating at times.
I hated how catty and mean Dawn was. She was a little too over the top for me and it was hard to take her seriously. Charlie's job also seemed fishy right from the start. Her boss (Dawn's husband) was always too cheery and fake, especially in comparison to Dawn's crazy jealous behavior .  He just never seemed right to me. Given Charlie's past, I thought she would be much more suspicious of strange behavior, but she was pretty naive when it came down to it. I liked her though. As a bookish woman who was a bookish teen, I could relate to Charlie's feelings about her teenage self and liked that grown Charlie took charge of her life and relationships.
As if often the case with small town romances, the secondary characters add a lot of fun and flavor to the mix. My favorite (and I think most everyone's) is Rayleen, outspoken and outrageous owner of the Dude Ranch who likes man candy and isn't afraid to say so. She and Charlie had a great rapport and Rayleen made every scene she was in a standout.
Even though this wasn't my favorite Dahl book, it did have some good moments and Walker and Charlie definitely steamed up the bedroom. If you like small town romances, this is a fun series. I would definitely recommend the series overall and I will be continuing with the series.
*I received a copy of this book from Blogging For Books in exchange for an honest review. This in no way affected my review or opinion of the book.