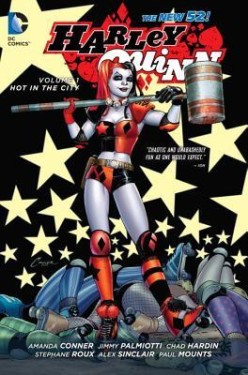 Title: Harley Quinn Vol 1: Hot in the City
Author: Amanda Conner, Jimmy Palmiotti
Artist: Chad Hardin
Publication Date: October 28, 2014
Publisher:  DC Comics
Genre: Comics
Find It: Goodreads, Amazon, B&N, Book Depository
Source: Library
Rating: 3 stars – stick to your bedtime
Fresh from BATMAN: DEATH OF THE FAMILY and SUICIDE SQUAD, Harley Quinn returns to her first solo series in the New 52! The writing team of Jimmy Palmiotti (ALL STAR WESTERN) and Amanda Conner (BEFORE WATCHMEN: SILK SPECTRE) unleashed Harley on an unsuspecting DC Universe, as she encounters various heroes and villains … and leaves no one unscathed in her wake! With art by Chad Hardin and a slew of comics' best artists including Darwyn Cooke, Sam Kieth, Tony S. Daniel, Paul Pope, Walter Simonson and Art Baltazar!

Collects HARLEY QUINN #0-8.
Everyone's favorite homicidal sidekick is back! This time, Harley Quinn, the former love interest of The Joker has her own series. Down on her luck, Harley finds out that she has inherited a building on Coney Island along with its eclectic tenants. While the building is free, property taxes require Harley to get a day job as a therapist where she helps her patients to the best of her (unorthodox) abilities.
Harley Quinn has been around the DC universe for a very long time but this is the first time that she's had her own series. It starts off with a fun story line where well-known artists try their hand at drawing Harley. It was really fun to see so many variations on the character and Harley herself got to chime in with her thoughts. The story is a bit surreal with Harley breaking the fourth wall, but is a fun intro to the series.
I enjoyed this first collection of the new Harley series. Conner and Palmiotti do a good job of humanizing Harley and making her very likable. She has her own warped sense of logic and ideas about what is right and wrong. She does hurt and kill people but it's usually because she's trying to help someone else. I am not saying that this makes it right but there is a strange logic to it and I can see why it might make sense to Harley.
There did not seem to be an overarching story line. The stories themselves seemed random and contained though they did show us different facets of Harley's character. Poison Ivy makes an appearance and it's interesting to see that dynamic in play. Surprisingly, Harley is a great animal lover which was a very sweet aspect to her personality. She also has a stuffed beaver that she talks to, which is strange, but hilarious.
While the stories were a bit disconnected, I enjoyed getting to know Harley better. She's upbeat and has a very unique way of seeing things. She's still not a hero but this book gives us a new look at her that makes her seem less villainous. The artwork was really great. Chad Hardin does a wonderful job of capturing Harley's facial expressions and the other wacky things going on around her. Connor also supplies gorgeous cover art to the series on top of her writing duties.
I am a relative newcomer to Harley Quinn canon so I don't have a lot to compare this to. It's also New 52 which I imagine means that they've done some rebooting on the character. However, I found the series to be entertaining and fun, in a slightly twisted way. I think the stories need a bit more focus but I found it to be a fun read. The series does contain scenes of strong violence. If that bothers you, you should probably skip this series. I'll definitely be checking out the next volume to see what trouble Harley gets into next.