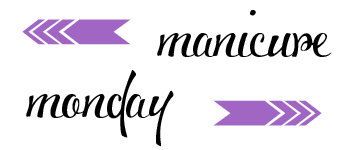 Hi and welcome to Manicure Monday, a feature that combines my love of reading and nail polish. Each week I'll showcase one of my current reads along with a matching book manicure.
Hello! I am back from vacation. It's been a while though it feels like everything went by really quickly. If you follow me on Instagram, you may have seen this manicure already. I don't have a book manicure today, but am instead going to show you the nails that I did for Comic-Con weekend. Originally I wasn't going to do anything super special to my nails for Comic-Con (crazy, I know). I was busy right up until I left and simply didn't have a lot of brain power to come up with something cool that I could execute in a short amount of time. However, after painting my nails with a really cool polish, they looked a bit drab. I remembered that I had a really cool nail stamping plate that was comic book themed. So I whipped it out and did a really quick look. The results look much more impressive than the time it actually took me to create. Let's take a look!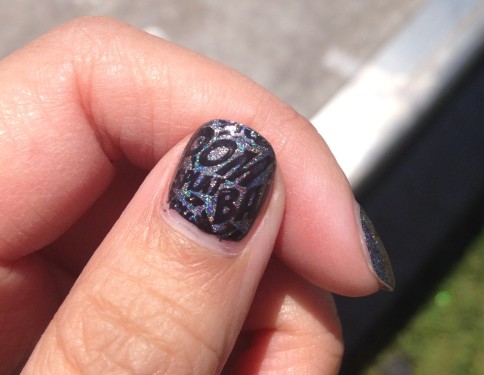 And here is my thumb! It's actually my favorite nail of the bunch just because it's so comic book-y. :) For my base I used a polish by indie polish maker Pahlish. The shade I used is called The Ghost Shift, and it's a really pretty silver/gray holographic polish. I wasn't sure how opaque this would be so I used it over one coat of black polish. However, it's pretty pigmented and I probably could have gotten away with using it on its own. I used two coats for a nice, sparkly look.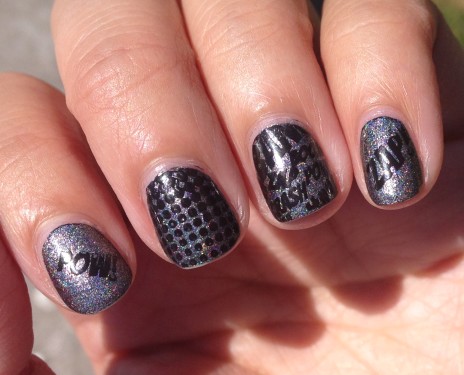 Using stamping plate VL-011 from Vivid Lacquer, I stamped a different image onto each nail. The black polish I used was American Apparel Hassid, which works really well for stamping. I had a lot of fun picking out what to put on each nail. Again, this looks much more complicated that it actually is. Stamping is pretty easy once you get the hang of it and I didn't mind if this was a little imperfect. I figured it would give it that authentic newsprint look. Unfortunately I forgot to get a picture of my right hand, which is a bit different than my l left. I'll try to add a pic at a later date.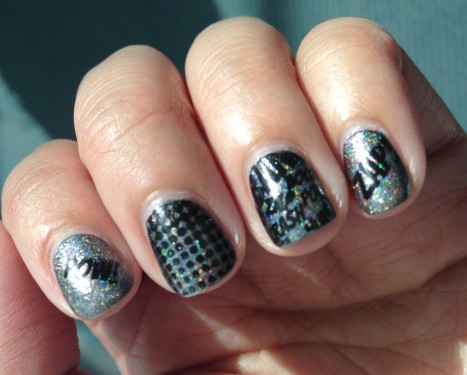 The image above is a little bit blurry but you can see the holo sparkles better. I had a lot of fun with this one and am glad that I decided to suck it up and do something a little more fun for Comic-Con. I am starting to think of what kind of nails I can do next year. If you have any good ideas, let me know! Was anyone else at Comic-Con? I hope to have a few posts up about my trip in the next week or so. Regular posting should be coming soon as well. Happy Monday!