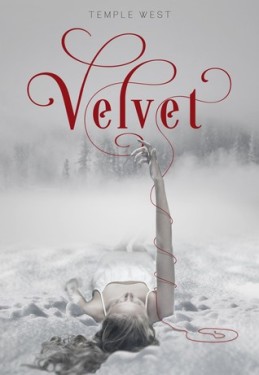 Title: Velvet (Velvet Trilogy #1)
Author: Temple West
Publication Date: May 12, 2015
Publisher:  Swoon Reads
Genre: Young Adult, Romance
Find It: Goodreads, Amazon, B&N, Book Depository
Source: review copy from publisher
Rating: 4 stars – stay up late
First rule of dealing with hot vampire bodyguards? Don't fall in love.

After losing both her parents before age seventeen, aspiring designer Caitlin Holte feels like her whole world has been turned upside down, and that was before the terrifying encounter with a supernatural force. Then, she learns that her hot bad-boy neighbor, Adrian—who might have just saved her life—is actually a half-demon vampire.

Suddenly Caitlin is stuck with a vampire bodyguard who feels that the best way to protect her is to become her pretend boyfriend. Trouble is, Caitlin is starting to fall in love for real, while Adrian can never love a human. Caitlin trusts Adrian to keep her safe from his demon father, but will he be able to protect her heart?
I am not going to lie. The thing that caught my eye about this book were the words "hot vampire bodyguard." I am not ashamed to admit that I am a fan of vampire books and, while they helped start the YA craze a few years ago, they have fallen out of popularity and I haven't read a really good vampire story in a while. Thank goodness for Temple West though. Velvet is smart, funny and extremely swoon worthy.
I really liked how fully fleshed out Caitlin and Aiden were. They have personalities and weren't just one note characters. I enjoyed that their relationship and feelings for each other developed over time. While there's definitely some attraction going on initially, they don't fall in love or lust right away. Their relationship was very believable and I grew to love both of them as characters. I liked that Caitlin was so passionate about fashion design and had interests other than Adrian. She's also going through a difficult time, having just lost both of her parents, and her behavior and feelings reflect that loss. And Adrian isn't your typical YA heartthrob. Yes, he's hot and rides a motorcycle but he's also funny and smart and a bit of a nerd. He loves to read and even makes a Harry Potter reference at one point. Who wouldn't fall in love with a guy who also loves Harry Potter?
The cast of secondary characters were also good and vital to the story. I would have liked to have learned more about some of them but I think we will get to know them better in the next book. I especially liked Trish, Caitlin's closest friend in Stony Creek. She's not catty or competitive and she seems to truly care about Caitlin. I loved it when she said that she would beat up Adrian for her and really meant it.
Of course, this being a teen vampire romance, there will be inevitable comparisons to that other popular teen vampire book. And while there are definitely some similarities between the two, they are not the same. I found the writing in Velvet to be much better and the characters more nuanced. The dialogue is also very funny and I found myself laughing out loud a couple of times.
Overall this was a very fun read that I really enjoyed. I don't think there's anything ground breaking in it but fun and entertaining. It's the perfect pick me up read when you don't want anything too serious. I look forward to reading more by Temple West and hope to see more books in this series soon.
*I received a copy of this book from Blogging For Books in exchange for an honest review. This in no way affected my review or opinion of the book.