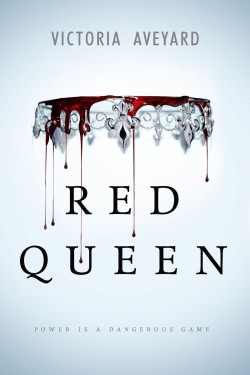 Title: Red Queen (Red Queen #1)
Author: Victoria Aveyard
Publication Date: February 10, 2015
Publisher:  HarperTeen
Genre: Young Adult, Fantasy, Romance
Find It: Goodreads, Amazon, B&N, Book Depository
Source: ARC received from publisher
Rating: 3 stars – stick to your bedtime
The poverty stricken Reds are commoners, living under the rule of the Silvers, elite warriors with god-like powers.

To Mare Barrow, a 17-year-old Red girl from The Stilts, it looks like nothing will ever change.

Mare finds herself working in the Silver Palace, at the centre of those she hates the most. She quickly discovers that, despite her red blood, she possesses a deadly power of her own. One that threatens to destroy Silver control.

But power is a dangerous game. And in this world divided by blood, who will win?
Red Queen is the story of a society divided by class and war. Reds are the commoners, the poor, working class who, because of their genetic makeup are forced to live under the rule of the genetically superior Silvers. Reds are forced into conscription when they turn 18 and must fight a war on behalf of the Silvers – a war that has been going on for a hundred years with no end in sight. Silvers are the elite of society. They are born with different powers to control the elements and the mind. Some are more powerful than others but they all rule over the Reds. Mare Borrow is a Red and is destined for war in a few months. However, when her best friend loses his apprenticeship and gets the summons for the army, Mare tries to save him by finding an escape for both of them. Unfortunately her plan takes an unexpected turn and she suddenly finds herself thrust into Silver society and has to try to reconcile what she knows and believes with what she must do in order to survive.
I have mixed feelings about this book. I really wanted to like it. The cover is beautiful and most of the reviews I read were overwhelmingly positive. Perhaps I set myself up with too high expectations but I felt let down by this book. For the first 50 pages or so of the book I could not shake the feeling that I'd read this story before. Maybe I've read too many YA fantasy and dystopian novels to be surprised anymore but I was just hoping for more. There's nothing wrong with the book, but it doesn't stand out either. Mare is your standard rebellious teenage girl heroine who finds out she is "special." There is romance, which I normally enjoy, but there were too many love interests which made the romance seem contrived. Instead of your standard love triangle, Aveyard ups the ante with a love square. It was obvious that at least one of these love interests had to go. The manner in which the romance played out was a bit disappointing. I don't want to give it away but I thought that it was kind of the easy way out and I would have liked to have seen something a little more interesting.
I found Mare to be a sympathetic character. She's very loyal and a bit rebellious. She acts without thinking sometimes which gets her into trouble. I liked Mare but I did not find her particularly unique. Like most of the characters in the book, I liked them but they did not stand out and fell easily into the roles set out before them. The plot is also very straight forward and predictable. If you are a fan of YA, this book will seem very familiar.
Despite my initial disappointment, I found myself enjoying the book. By the end, I was pretty invested in the characters. The world building, while not unique, was still interesting and kept my attention. Aveyard's writing is also very descriptive and engaging, making Red Queen a very quick read.
In a sea of dystopian YA novels, Red Queen doesn't stand out in any special way. With all the hype, I was just hoping for something more. No doubt there will be others who will love this book. I am invested enough in this world though that I do want to read the sequel.
*I received a copy of this book from the publisher in exchange for an honest review. This in no way affected my review or opinion of the book.