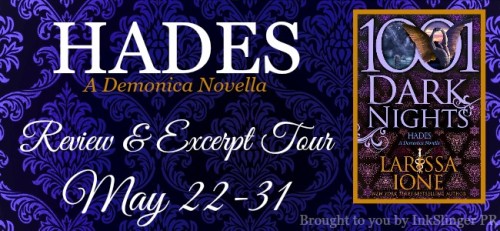 Hi, everyone! I am very excited to be a part of the release day tour for Larissa Ione's newest novella in the Demonica world, HADES. The Demonica series was the first real paranormal romance series that I ever read and it started a path into the world of romance that I never anticipated. It's still one of my favorite series and I always recommend it to people who are looking to try some good paranormal romance. As part of the tour today I have an excerpt and and review. I hope this entices you to give this novella a try. While it helps to have read some of the books in the series, it's not really necessary and I think you can enjoy it as a standalone. Many thanks to Inkslinger, Larissa Ione, and Evil Eye Concepts for including us on this blog tour.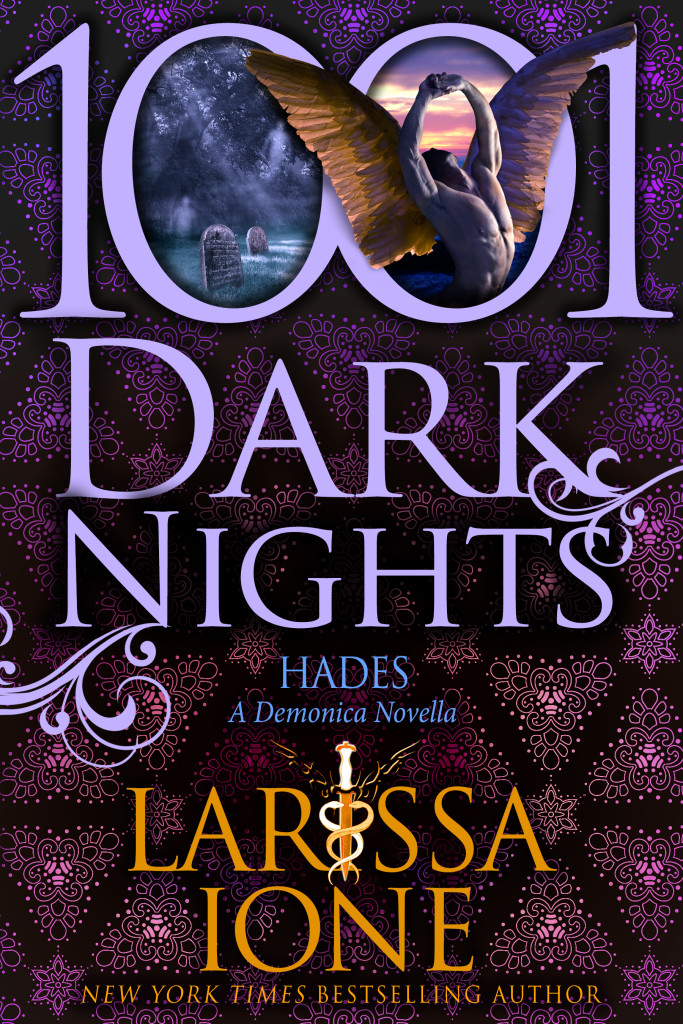 About HADES:
A fallen angel with a mean streak and a mohawk, Hades has spent thousands of years serving as Jailor of the Underworld. The souls he guards are as evil as they come, but few dare to cross him. All of that changes when a sexy fallen angel infiltrates his prison and unintentionally starts a riot. It's easy enough to quell an uprising, but for the first time, Hades is torn between delivering justice — or bestowing mercy — on the beautiful female who could be his salvation…or his undoing.
Thanks to her unwitting participation in another angel's plot to start Armageddon, Cataclysm was kicked out of Heaven and is now a fallen angel in service of Hades's boss, Azagoth. All she wants is to redeem herself and get back where she belongs. But when she gets trapped in Hades's prison domain with only the cocky but irresistible Hades to help her, Cat finds that where she belongs might be in the place she least expected…
HADES is a novella in Larissa's Demonica Series as part of the 1001 Dark Nights Collection and is exclusively available as Amazon Kindle and Paperback. Grab the latest installment in this sexy series! Enjoy!
Amazon US Kindle ** Amazon Paperback ** Amazon UK Kindle

Excerpt
Somewhere outside Azagoth's Greek-style mansion, a bird of prey screeched. Cat loved hearing it. Not long ago, Sheoul-gra had been a dead realm, a physical manifestation of Azagoth's emotional state. Dark and dreary, the "Gra," as it was sometimes called, had resembled a toxic wasteland that couldn't support any animal or plant life that wasn't straight out of Hell itself.
But Lilliana's love had changed Azagoth, and with it, his realm.
Now, when Cat strolled outside the palace, the grounds and buildings surrounding it teemed with life, from the lush grass, leafy green trees, and sparkling water, to rabbits, birds, and even the occasional fox or deer.
Smiling, she put down her feathered duster and headed from Azagoth's pool room toward the mansion's entrance, and as she rounded a corner, she collided with a body.
A huge, muscular body.
Hades.
An instant, hot tingle pricked her skin as she leaped backward, crashing into something behind her. She heard something break, but at the moment, it didn't matter.
This was the first time she'd touched Hades. The first time her ability to sense good and evil as a physical symptom on the surface of her skin had triggered. At least, it was the first time with Hades.
She'd always suspected he'd give off an intense blast of evil, but she hadn't expected the evil to be tempered by a ribbon of goodness. She also hadn't expected to be so…aroused by the vibes he gave off. Then again, merely looking at him aroused her, so why wouldn't touching him do the same?
He stood there, bare-chested and wearing a skin-tight pair of silver pants that showed every ropey muscle and presented that impressive bulge at his groin like a gift. Criminy, he might as well be naked. She wished he was naked.
"E-excuse me," she squeaked.
He looked down at her, one corner of his perfect mouth tipped up in a half-smile. Which was a first. Everyone seemed to get smiles but her.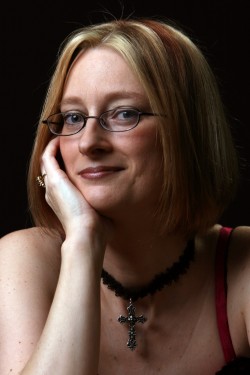 About Larissa Ione:
Larissa Ione is a New York Times and USA Today bestselling author. An Air Force veteran, she traded in a career as a meteorologist to pursue her passion of writing. She now spends her days in pajamas with her computer, strong coffee, and supernatural worlds. She believes in celebrating everything, and would never be caught without a bottle of Champagne chilling in the fridge…just in case. She currently lives in Wisconsin with her U.S. Coast Guard husband, her teenage son, a rescue cat named Vegas, and her very own hellhound, a King Shepherd named Hexe.
Website ** Facebook ** Twitter ** Newsletter ** Pinterest ** Author Goodreads ** Novel Goodreads

Review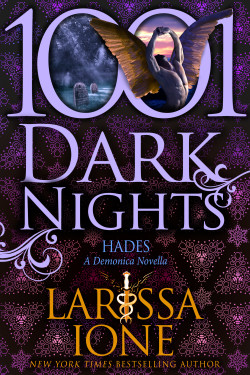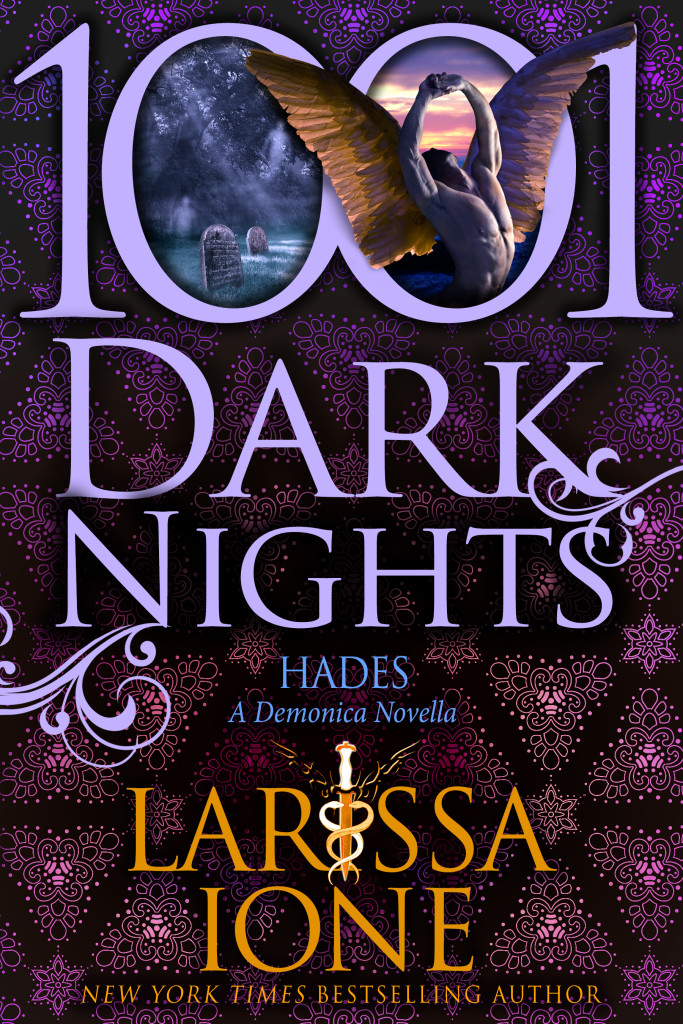 Title: Hades (Demonica, #11.5; Lords of Deliverance 6.5)
Author:  Larissa Ione
Publication Date: May 26th 2015
Publisher:  Evil Eye Concepts
Genre: Paranormal Romance
Find It: Goodreads, Amazon US Kindle, Amazon Paperback, Amazon UK Kindle
Source: e-ARC from publisher
Rating: 4 stars – stay up late
Cataclysm (Cat) is an Unfallen, an Angel recently booted out of Heaven. She isn't a true Fallen yet and hopes to one day regain her wings by working as a servant for Azagoth (aka The Grim Reaper) in Sheoul-Gra (the demon name for Hell). While she misses her wings, life as an Unfallen isn't terrible. Azagoth is pretty lenient towards her less than stellar cleaning abilities and she also gets to ogle Hades, Jailor of the Underworld and all around badass. Hades feels an immediate attraction to Cat but she's been deemed off limits to him. He settles on flirting with her while keeping her at a safe distance. But when Cat finds herself the key piece in a demonic uprising, Hades must do his best to keep her safe while fighting their growing attraction.
As a fan of the Demonica series, I am always happy when a new Demonica story is available. Both Hades and Cat have had small parts in previous books but, honestly, I don't have a great recollection of any of their prior appearances. However, you don't need to know much about their back story to read this novella. I had a lot of fun reading this story and getting to know Hades and Cat better. As the Jailor of the Underworld, Hades leads a very solitary life. Until recently, Azagoth hasn't been a very pleasant boss, and there aren't many friends to be found in the Underworld. I liked Hades's sardonic sense of humor and casual arrogance. He also has a fun, playful side that comes out when he is teasing Cat.
While I did not remember much about Cat from the previous books, I quickly grew to like her. She unknowingly joined the wrong side when she got caught up in Gethel's plot to bring about the apocalypse, which caused her fall. She could easily become a true Fallen, which would give her power and freedom. But there lies a goodness and strength of character in Cat that won't let her take the easy way out and I admired her strength and determination. On the surface, it doesn't seem like Cat and Hades have much in common. However, they are both isolated and lonely. Both are trying to atone for their sins.  Cat can be shy but Hades brings her out of her shell. Cat brings a light and warmth to Hades's life which he has been missing.
Overall I really enjoyed this little peek into life in Sheoul-Gra. Cat and Hades were excellent fun and I also enjoyed seeing a small glimpse into Azagoth and Lilliana's life.  Ione introduces us to a fascinating new character, Zhubaal, that she seems to be setting up for his own story. I am really hoping he's next on her list of stories to write. Hades is a fun, fast read that is great for both long time fans of the Demonica series and new readers. If you haven't read the series, it's a great entry point see if you like the world and can be enjoyed as a standalone novella.  Be warned though that you will probably want to run out and get the rest of the books in the series after you get a taste of Demonica.
*I received a copy of this book from the publisher in exchange for an honest review. This in no way affected my review or opinion of the book.