Pasadena Loves YA, also known as the the Pasadena Teen Book Festival is coming up. If you live in the SoCal area who loves YA, then this event is a must! Last year's festival was fantastic and this year's lineup is just as great. Check out all of the info below. We are really excited that Livia Blackburne is visiting us today. Livia is an amazing author and we can't wait to host her in Pasadena on May 23!

The Event
Pasadena Loves YA
Date: May 23, 2015 | Time: 12 noon – 4 pm
Meet 20 YA authors / Panels & Book Signings / Giveaways and Refreshments / Free tote bags for the first 150 guests! FREE event at Pasadena Public Library, Central Branch, 285 East Walnut Street, Pasadena, CA 91101
Keynote speaker Mary McCoy (author of Dead to Me) with Katie Alender, Victoria Aveyard, Alexis Bass, Julie Berry, Livia Blackburne, Virginia Boecker, Jessica Brody, Stephen Chbosky, Brandy Colbert, Ava Dellaira, Kody Keplinger, Liz Maccie, Morgan Matson, Lauren Miller, Alexandra Monir, Jennifer Niven, Romina Russell, Sarah Tomp, & Kiersten White.
For more info, visit www.pasadenateenbookfestival.com
Book sales by Vroman's Bookstore will begin at 11 am. Co-sponsored by Bridge to Books. No registration required, but we would appreciate it if you would post, share, tweet, and tell everyone you know about the upcoming event! Please use the hashtag #PLYA2015.

 Interview with LIVIA BLACKBURNE
Your background is in neuroscience. Do you find that there is a lot of overlap between writing and neuroscience? Do you find one field to be more difficult than the other and/or do you enjoy one more than the other?
Well, both are ways for getting into people's heads and figuring out how they work. Neuroscience is more objective, but you lose a lot bit with the objectivity as well. You can find a lot of truth in a novel, even if it isn't experimentally obtained. I enjoy writing a lot more than science.  There's just something about living alternate lives…
Your bio says that you started Midnight Thief in high school in order to avoid a school camping requirement. Do you still hate camping and how much did your book change from when you started it in high school and when you finished it 12 years later?
Yes, I still hate camping, and will hate it as long as camping involves bugs and does not involve showers or flush toilets.  The book from high school changed completely.  It used to be about a young thief named Llana who discovered she had magical powers.  She's completely gone from the book, though her best friend Kyra and the young knight Tristam made the transition to Midnight Thief.  Malikel was a wizard in the high school version, and he has no magical powers in this version.
What is your favorite part about writing? Your least favorite?
My favorite is seeing people react to my story and hearing from readers. I love finding out what they think about the characters, what their favorite parts were, their insights, etc.  My least favorite would be first drafting.  It's so painful, I never know what to do, and the end product is always crappy.  Thankfully, revision exists.
Kyra is such a beautiful and unusual name. Can you tell us how you came up with it?
Haha, honestly, I think I just made it up!
Which character of yours do you like writing the most?
James.  He's such a complex and dangerous character, and I love getting into his head.  I also feel like a badass when I'm writing him.
Without spoilers, can you tell us what we can look forward to in Daughter of Dusk?
Kyra learns about her parents, we get to know James better, the Demon Riders continue to make trouble, and Flick has some interesting adventures. Also, kissing.
Any advice for aspiring writers?
Find a critique group you trust.  The accountability and feedback is critical. Midnight Thief would not exist if not for my own critique partners.
Lightning round!
Star Trek or Star Wars?
Depends on the day.  Star Wars today, because of the upcoming movie.
Favorite writing snack?
I'm not much of a snacker, though my lunches can last for hours on end at the computer.
Night owl or morning bird?
Night owl!
Favorite book from your childhood?
Song of the Lioness by Tamora Pierce
What are you currently reading?
I just read through The Winner's Curse in record time.  Oh the feels…
What animal is your Patronus?
A lion!
Cake or pie and what kind?
Homemade apple pie a la mode.
Thank you, Livia, for being on the blog today. If you guys haven't read Midnight Thief yet, what are you waiting for? If you are local, please come out to Pasadena Loves YA and you can meet Livia in person.

About the Author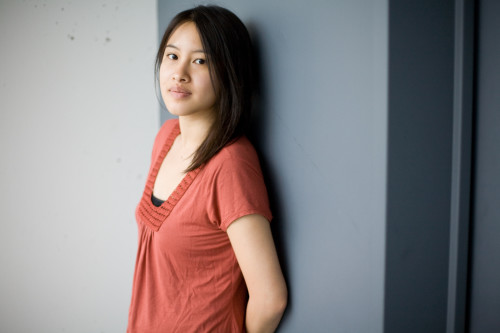 Twitter // Author Website // Facebook
10 Things About Me:
I write fantasy.  Most often YA fantasy, but sometimes I branch out.
I was born in Taiwan, raised in Albuqurque, and spent my twenties in Boston, where I earned an A.B. in Biochemical Sciences from Harvard and PhD in cognitive neuroscience from MIT.
I started my debut novel Midnight Thief in high school, because writing a novel was the only way I could get out of the mandatory camping requirement.  I finished about 60 pages.  They were 60 awful, awful pages.
I finished Midnight Thief 12 years later, because writing a novel was the only way I could keep my sanity while conducting my doctoral research.  This time, I got to 370 pages, and they were much less awful than the initial 60.
I write a blog about psychology and neuroscience for writers.  You can check it out here.
Like every good Asian kid, I played the piano as a child.  I don't do that as much anymore, but I still love to sing and dance.
I'm horrible at any sports that involve fast moving projectiles, and I dislike most sports that involve highly repetitive movements (running, swimming, biking, etc.).  This leaves basically dancing and martial arts.
When I wanted sweets as a child, my mother would give me one M&M.  I thought that was normal, and to this day, have very low tolerance for sweets.  One bite of chocolate bar, half a scoop of ice cream is about all I can take.
If I had to choose one author with the biggest influence on my reading and writing development, it would be Tamora Pierce.
Some of my favorite books:  The King of Attolia by Megan Whalen Turner, Plain Kate by Erin Bow, Code Name Verity by Elizabeth Wein, The Lies of Locke Lamora by Scott Lynch, The Scorpio Races by Maggie Stiefvater.

 Giveaway