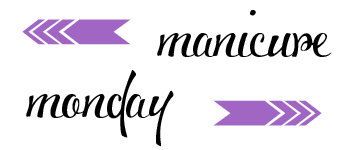 Hi and welcome to Manicure Monday, a feature that combines my love of reading and nail polish. Each week I'll showcase one of my current reads along with a matching book manicure.
Hello! Hope you all had a good weekend. I was sick about a week ago and found myself totally uninterested in reading. I hate it when you're so sick that can't even read. Doesn't that just seem wrong? Anyway, when I finally started getting my mojo back I decided to read something that would be a fun read. I decided to picked up Gail Carriger's Parasol Protectorate series. I had read book 1 a couple of years ago and really liked it but held off on reading the rest of the series. After I was sick I decided to go back to them and read the next two books, Blameless and Changeless, in a couple of days. For this week's Manicure Monday I decided to go with Changeless for my matching mani.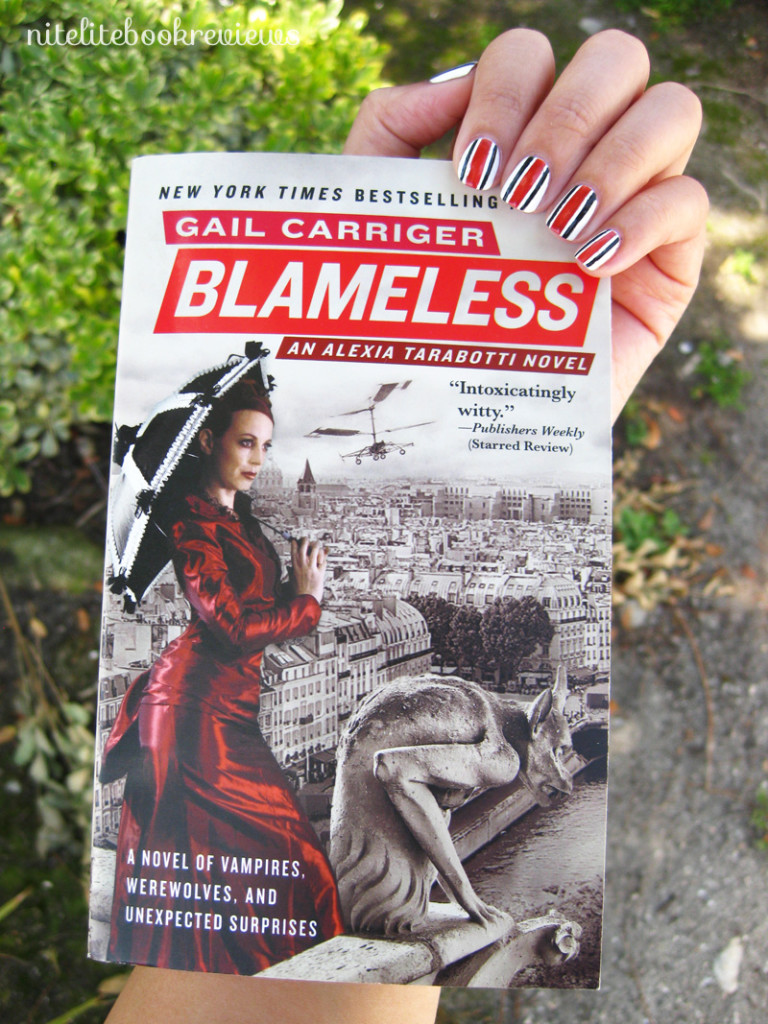 This cover has a lot of photographic elements that I knew I would not really be able to recreate very well so I decided to create a design based on other elements on the cover. Alexia's parasol immediately drew my eye. I also wanted to incorporate the beautiful reddish copper color of her dress into the design. I ended up with a fun stripe pattern that isn't an exact interpretation but that I think captures the spirit of the cover.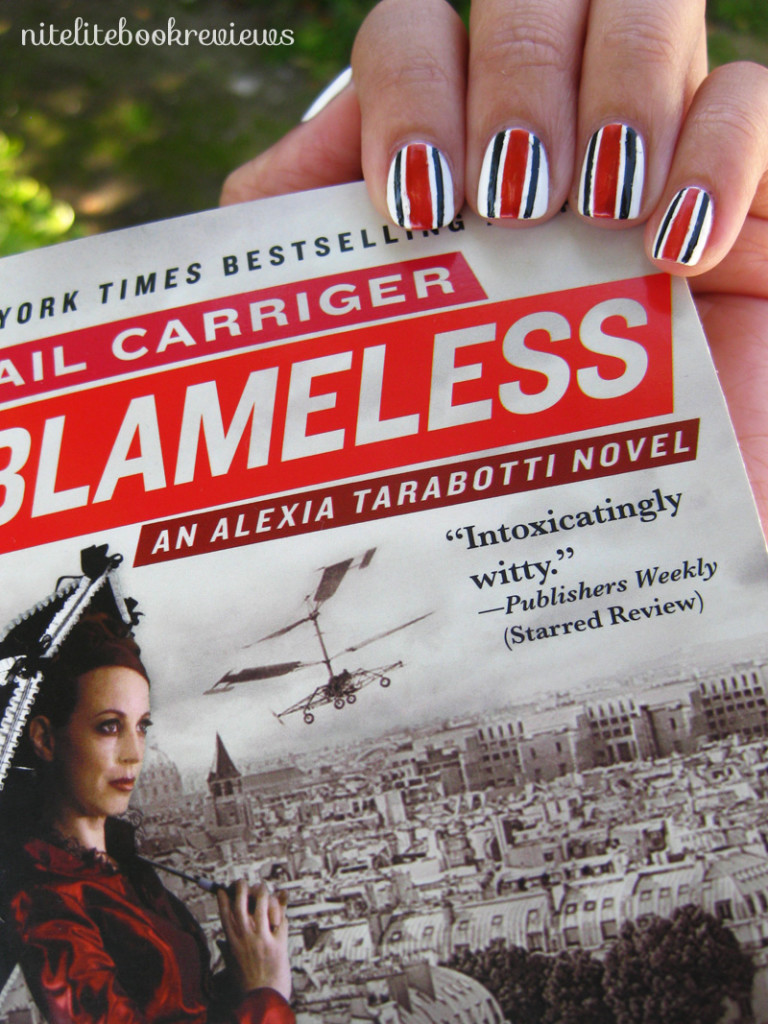 First I painted 2 coats of a nice white creme (Cult Nails Tempest) onto all of my nails. I made sure that was fully dry before I went on to the next part. To create the stripes I used nail striping tape to section off where I wanted to pain the black and copper stripes. I should have take a picture of this part for you guys to see but I totally forgot. Once I had the tape where I wanted it, I carefully painted the black and copper stripes, making sure to stay within the taped lines. Let the polish settle for a tiny bit and then carefully peel the tape off.  If you are careful, you should have nice clean stripes.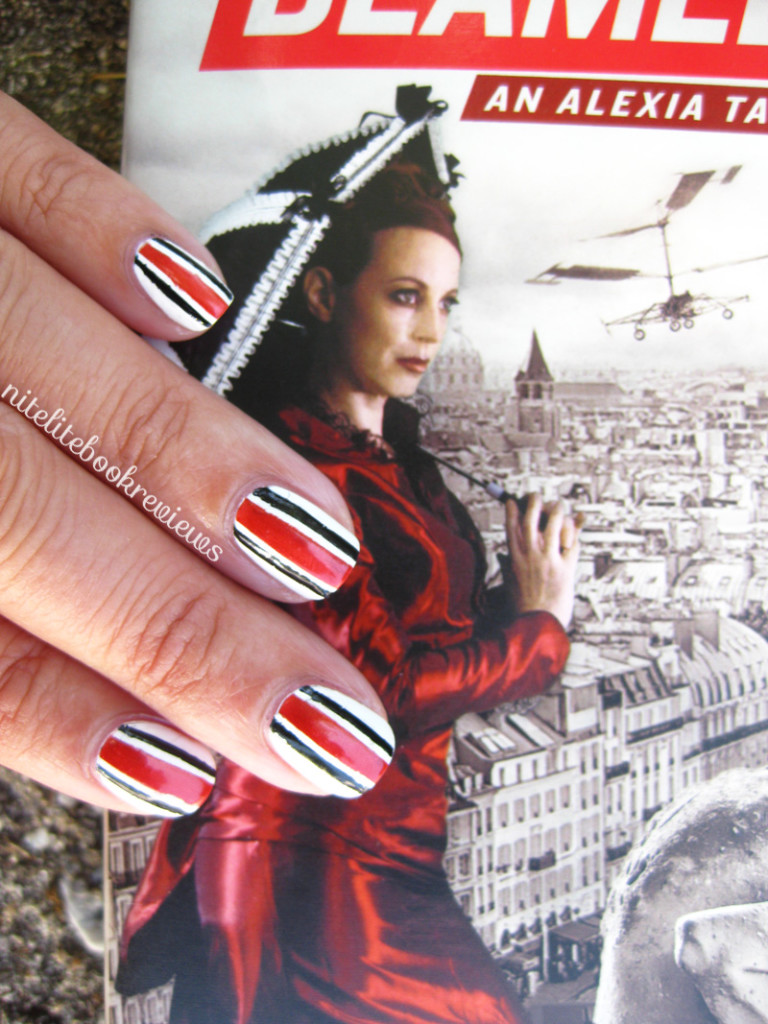 For the black I used Wet N Wild Black Creme and the coppery shade is Orly Ginger Lily. I think the stripes came out OK. There are a few not so clean areas where the polish got stuck on the tape but it's hard to see unless you look very closely.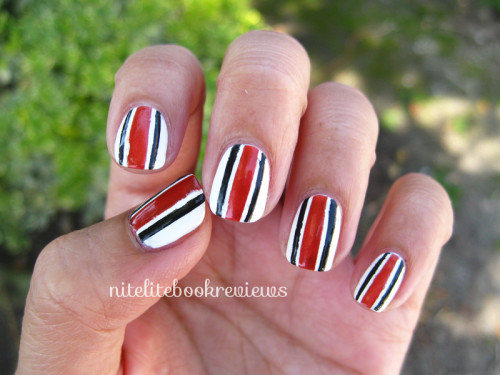 This manicure reminds me of racing stripes than a parasol but I still like it. I don't often play around with striping tape but it's a good tool for creating geometric looks. I will have to remember to use it more often. Thanks for checking out this week's manicure. Does anyone else love this series? I am taking a break but plan on reading the last two books soon. :)