Hi, guys! Wow this post is abysmally late. April is what my friends like to call the start of "book season," which means that there are a plethora or fantastic book events lined up back to back. This year was especially crazy and I pretty much had a book type event every weekend. I meant to put up all of my event recaps and posts much earlier but it's been weeks and I have only just now found the time to do it. I also was struck down with a bout of food poisoning last week and was pretty useless for a few days. So here is what will hopefully be the first of several posts about my recent bookish adventures.
Back at the end of March I attended WonderCon in Anaheim, CA. It's a smaller, sister event to Comic Con. It's a much more manageable event if you don't like the crowds of Comic Con or can't get tix to the bigger event. It's not as grand but I like that the panels are pretty easy to get into and the exhibit floor isn't claustrophobia inducing. I only went to two panels on the one day I was at WonderCon and they were both TV related. iZombie is a show that I have been looking forward to since I first heard about it at Comic-Con last year. It took almost a year from then for the show to finally premiere but it was worth the wait.
iZombie is based on the DC comic book of the same name and is about a young woman named Liv (Rose McIver) whose life takes a drastic turn when she goes to a boat party one night and wakes up as a zombie. The driven medical student suddenly finds herself at an existential crossroads and quits her job as a medical intern to work at the morgue for easy access to brains, which she must consume regularly in order not to go "full zombie." After realizing that she gains the memories and traits of the people whose brains she eats, Liv begins to help the police track down their killers as a "psychic." It's a very fun police procedural with a zombie twist!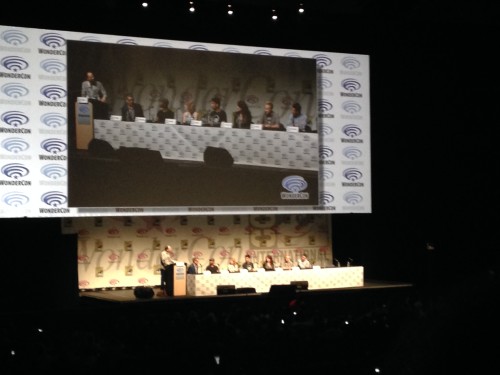 The panel consisted of Rose McIver (Liv Moore), Malcolm Goodwin (Clive Babineaux), Rahul Kohli (Dr. Ravi Chakrabarti), Robert Buckley (Major Lilywhite), David Anders (Blaine DeBeers – OMG I love David Anders!), writer/producer Rob Thomas (Veronica Mars) and his writing/producing partner Diane Ruggiero.  There was a full house for this panel and it was really fun to be among so many fans. I didn't take a lot of notes during the panel but here are some tidbits that I learned.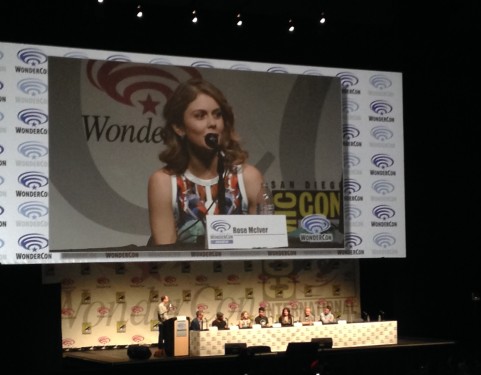 7 years ago, Thomas was in the midst of working on another zombie project called Death Valley when it was announced that Jan Debont had signed on to do the The Walking Dead. He ended up scrapping that project.
When Thomas saw the film Warm Bodies, it opened his eyes to the possibilities of a different kind of zombie, one that an audience could empathize with.
Malcolm Goodwin believes in psychics.
The "brains" that Liv eats on-screen are made from coconut agar-agar (a gelatin agent made from algae) and she has a spit bucket.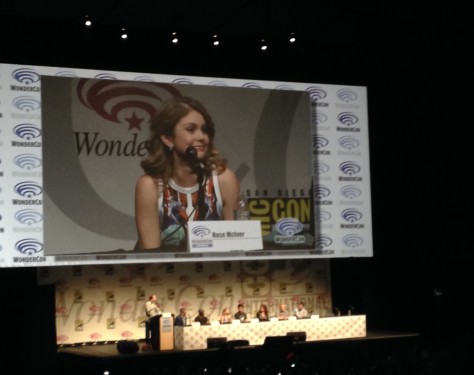 The makeup for Liv takes 1 hour and 45 minutes.
If McIver could choose, she would keep the ability to learn multiple languages.
Kohli watched autopsy videos as research for his character. He and McIver also visited a morgue in Vancouver.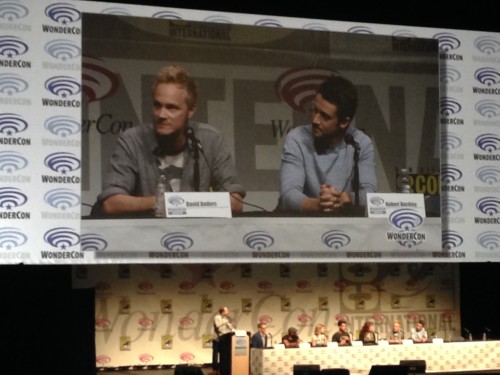 Thomas likes to call the show a zomcomromdram, which I think is pretty fitting. We had a great time at the panel and it's clear that the cast is having just as much fun making it as fans are having watching it.
Have you guys checked out iZombie yet? I have not read the comic book but am now curious. I'd love to hear what you guys think of the show or the comic if you've read it. :)