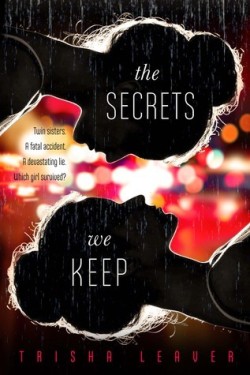 Title: The Secrets We Keep
Author: Trisha Leaver
Publication Date: April 28th 2015
Publisher:  Farrar, Straus and Giroux
Genre: Young Adult, Contemporary
Find It: Goodreads, Amazon, B&N, Book Depository
Source: ARC
Rating: 3 stars – stick to your bedtime
Ella and Maddy Lawton are identical twins. Ella has spent her high school years living in popular Maddy's shadows, but she has never been envious of Maddy. In fact, she's chosen the quiet, safe confines of her sketchbook over the constant battle for attention that has defined Maddy's world.

When—after a heated argument—Maddy and Ella get into a tragic accident that leaves her sister dead, Ella wakes up in the hospital surrounded by loved ones who believe she is Maddy. Feeling responsible for Maddy's death and everyone's grief, Ella makes a split-second decision to pretend to be Maddy. Soon, Ella realizes that Maddy's life was full of secrets. Caught in a web of lies, Ella is faced with two options—confess her deception or live her sister's life.
Maddy and Ella are identical twins but they could not be more different. Maddy is popular and vivacious. People seem to gravitate towards her. Ella on the other hand, is quiet and is more interested in getting into art school than who's going with whom to the Snow Ball. Maddy and Ella used to be best friends until high school, when Maddy got a whole new group of friends and there seemed to be no place for Ella in Maddy's new life. One night, as Ella comes to her sister's rescue yet again, the two have a huge argument that ends in a tragic accident, leaving only Ella alive. She wakes up confused and disoriented in the hospital. Everyone thinks she is Maddy and, driven by guilt and grief, Ella makes the decision to assume Maddy's identity in order to give her sister the life she thinks she took away. But even though they look the same, she and Ella are very different and Ella is having a hard time stifling her own personality for Ella's. Ella's seemingly charmed life is harder to maintain than Ella thought.
The Secrets We Keep has an interesting premise though it was not quite what I expected. I picked it up mainly because I have a fascination with twins. Twins by especially identical twins are interesting to me and I can never resist a book about them. However, I thought this was going to be more of a thriller. That may have been my mistake as I do not think that anything in the blurb makes it seem that way. The book would have made a little more sense to me though if Ella had a stronger reason for taking her sister's identity (such as needing to in order to find out something about her life/death). I had a hard time understanding Ella's motivation in pretending to be her sister (presumably for life). I understood her guilt, but assuming her sister's identity was not the best way to deal with it.
I did think that this was an interesting character study on identity and how we perceive ourselves. Ella definitely saw herself a certain way and felt like her family and friends saw her a certain way, too. So much so that she convinced herself that her family would be happier had Maddy lived instead of her.
I liked Ella a lot (when she was being herself). And, having a sibling close to my own age, I understand all too well the drama that can result in having a tumultuous relationship with a sibling. I wish we could have explored that aspect of Ella and Maddy's relationship a little more.
This book did a good job of creating a believable high school setting. I wasn't super popular or cool in high school but I do remember how mean kids can be to one another when they want to be. This brought all of that high school angst back and I felt bad for Ella as she tried to navigate the unforgiving politics of high school. Jenna is the quintessential mean girl and we only learn enough about her to dislike her. Alex wasn't your typical jock boyfriend but he also felt a little flat as a character. I wish we could have learned more about Alex's relationship with the real Maddy. Josh was my favorite and is one of those sweet, funny boys that I'm always drawn to. He and Ella's relationship seemed the most genuine and their scenes together were my favorite.
Overall I was glad I read this book, but it didn't blow me away. As I said, I didn't really understand Ella's choice in pretending to be Maddy so it was hard for me to justify her actions. However, Leaver does a good job of capturing the competitiveness and meanness that often occurs in high school. Ella's deception, while unnecessary in my opinion, was handled well and I could really feel her emotions and how her decision was really tearing her apart. I do wish we could have seen more of what Maddy and Ella were like before the accident though, as their relationship had more nuance to it than I think we were able to see in this storyline.
*I received a copy of this book from the publisher in exchange for an honest review. This in no way affected my review or opinion of the book.