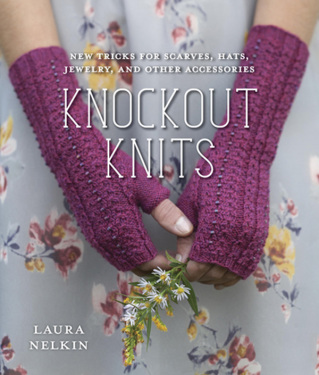 Title: Knockout Knits
Author: Laura Nelkin
Publication Date: September 2, 2014
Publisher:  Potter Craft
Genre: Crafts, Non-Fiction
Find It: Goodreads, Amazon, B&N, Book Depository
Source: review copy from Blogging for Books
Rating: 4 stars – stay up late
An abundance of knitted luxuries–summery lace shawls, warm and wooly hats, a trio of cool knitted bracelets, and stunning beaded gloves–designed to grow your skills.

Who doesn't love to knit accessories? They're fast, often require only a skein or two of yarn, and make amazingly versatile gifts for friends and family. Small knits are also the perfect way to try something new–an unusual stitch pattern, wild multi-colored yarn, or even a touch of sparkle. Laura Nelkin is well-known for designing these fun-to-knit little projects introducing her students and fans to advanced techniques with her signature "You can do it!" enthusiasm. In her first book, she share her 3 favorite types of knitting using wrapped stitches, lacework, and beads. Each chapter begins with a quick knitted cuff to lay the foundations, then gradually ramps up to more complicated designs. The result is an all-new collection of wearable, feminine knits with a slightly rustic aesthetic. Give them as gifts, stockpile for a chilly day, or dress up a casual outfit–these are knockout projects to enjoy knitting again and again.
Knockout Knits is a gorgeous collection of luxurious and eye-catching accessories that incorporate simple techniques and embellishments for knockout results.
I've been following designer Laura Nelkin for a while now. She's known for creating beautiful accessories that often incorporate beads. When I heard that she had a book coming out, I knew I wanted to get it just for the section on how to bead. While the beading section was what drew me to the book, the other techniques and patterns in the book are just as good.
This book is broken up into three sections, each focusing on a specific technique. There are wrapped stitches, lace, and beads. I am familiar with lace already so that portion of the book was the least exciting to me. The patterns are still beautiful. I just don't think I learned anything new. If you haven't knit much lace before, Nelkin's tutorial is easy to follow and includes clear illustrations of lace techniques. There's also a tutorial on how to read a lace chart, which I think is invaluable in knitting. I liked the section on wrapped stitches. I don't really think of using wrapped stitches very much and Nelkin really uses the simple technique to create some unique results. The beading section was my favorite though. She goes into detail about the various ways in which you can use beads with your knitting. She also discusses how to choose the right beads for your project. The patterns in this section are especially stunning. There's just something about adding beads to an object that just gives it an extra wow factor. I love glitter and sparkle and beads really fall in line with that. I am not a big fan of knitted jewelry but Nelkin has a few pieces in here that are really lovely and would take no time at all to make.
Overall I was really impressed with this book. The patterns are gorgeous and are perfect for those special skeins of yarn in your stash. These accessories would make great gifts for friends, family or for yourself. Nelkin shows us how simple techniques and a little embellishment can great a real knockout knit. I highly recommend this book for the slightly adventurous knitter who wants to learn some new techniques to make beautiful, one-of-a-kind accessories.
*I received a copy of this book from Blogging For Books in exchange for an honest review. This in no way affected my review or opinion of the book.