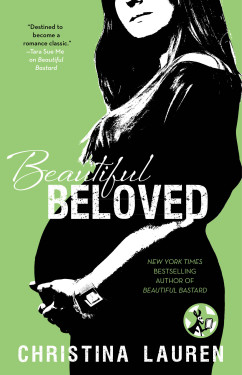 Title: Beautiful Beloved (Beautiful Bastard #3.6)
Author: Christina Lauren
Publication Date: February 2, 2015
Publisher:  Pocket Books
Genre: Romance, Novella
Find It: Goodreads, Amazon, B&N, iBooks, Kobo
Source: Purchased
Rating: 4 stars – stay up late
In Beautiful Stranger, finance whiz Sara Dillon met the irresistibly sexy Brit, Max Stella, at a New York City club. Through the series we've watched them learn to balance commitment with their less than private brand of playfulness. In Beautiful Beloved, Max and Sara take it to the next step. But the question is: Will they be able to find a balance between the wild sexcapades they aren't ready to retire, and the demands of parenthood that come along with their new Beautiful bundle of joy? Parenthood: it's not for the weak of heart.
I always like seeing what happens after happily ever after and Beautiful Beloved is a fun addition to the Beautiful Bastard series. New parents Max and Sara are struggling to balance life with a newborn. Their attempts to bring some of the spark back into their sex life has comical results but, in the end, they figure out a way to make it work and their relationship is stronger than ever.
I like that Max and Sara's relationship has grown over the series. From super hot sex only partners to committed couple and now to doting parents, I've loved seeing how their feelings for one another have deepened and evolved. Having a child together has brought them even closer but they are struggling to balance parenthood and a healthy love life. Even though their relationship has changed, Max and Sara still keep it sexy with their unique brand of exhibitionism.
I enjoyed seeing the different methods of babysitting that Sara and Max's friends employ. Some are definitely better at it than others. We finally get to meet Max's brother Niall as well and I can't wait to read his story in Beautiful Secret.
Max and Sara are one of my favorite couples of this series and I thoroughly enjoyed this story. With just the right amount of sexy and sweet, Beautiful Beloved is a treat for fans of the series and will help tide readers over until the next book comes out.