Hi, guys! I'm really excited to be a part of the Nalini Singh Rock Hard cover reveal today. As a Nalini Singh fangirl I am more than happy to do my part in letting you all know about the next novel in Singh's Rock Kiss series. Singh is best known for her Guild Hunter and Psy-Changeling series but delved into the world of rock romances last year with Rock Addiction. I have been waiting for Charlotte and T. Rex's story ever since I first read about them last year, so you can bet that I will be getting Rock Hard as soon as it's available.
PRE-ORDER AVAILABLE
Amazon preorder:  http://amzn.to/1LMSNLJ
iBooks preorder:  http://bit.ly/1utQDee
Nook preorder: http://bit.ly/1KEyBIx
Kobo preorder: http://store.kobobooks.com/en-US/ebook/rock-hard-22
Releasing: March 10th, 2015
In New York Times Bestselling author Nalini Singh's newest contemporary romance, passion ignites between a gorgeous, sinfully sexy man who built himself up from nothing and a shy woman who has a terrible secret in her past…
Wealthy businessman Gabriel Bishop rules the boardroom with the same determination and ruthlessness that made him a rock star on the rugby field. He knows what he wants, and he'll go after it no-holds-barred.
And what he wants is Charlotte Baird.
Charlotte knows she's a mouse. Emotionally scarred and painfully shy, she just wants to do her job and remain as invisible as possible. But the new CEO—a brilliant, broad-shouldered T-Rex of a man who growls and storms through the office, leaving carnage in his wake—clearly has other plans. Plans that may be equal parts business and bedroom.
If Charlotte intends to survive this battle of wits and hearts, the mouse will have to learn to wrangle the T-Rex. Game on.
Series Reading Order
Rock Addiction (Book One)
Amazon: http://amzn.to/WqA2rj
iTunes:  http://bit.ly/1ng9zE9
Kobo: http://bit.ly/1lPqB19
Rock Courtship (Book 1.5)
Amazon: http://amzn.to/XXjjxG
iTunes: http://bit.ly/1lzgNIi
Kobo: http://bit.ly/1pEeCy6
Meet the Author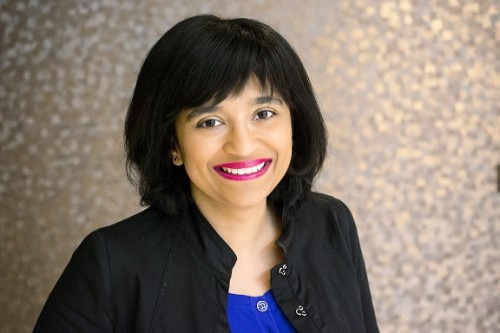 NEW YORK TIMES AND USA Today bestselling author of the Psy-Changeling and Guild Hunter series Nalini Singh usually writes about hot shapeshifters and dangerous angels. This time around, she decided to write about hot and wickedly tempting rock stars. If you're seeing a theme here, you're not wrong.
Nalini lives and works in beautiful New Zealand, and is passionate about writing. If you'd like to explore her other books, you can find lots of excerpts on her website. Slave to Sensation is the first book in the Psy-Changeling series, whileAngels' Blood is the first book in the Guild Hunter series. Also, don't forget to swing by the site to check out the special behind-the-scenes page for the Rock Kiss series, complete with photos of many of the locations used in the books.
STALK HER:  Website | Facebook | Twitter | Goodreads
GIVEAWAY
Share Link: http://www.rafflecopter.com/rafl/share-code/MDk5NjRmMDM5ZDM4YTBjYWM0YzAyYzM0NGI2ODRhOjU5Mw==/?
What do you guys think of this cover? I love a good suit so I am digging this cover. Is March here yet?