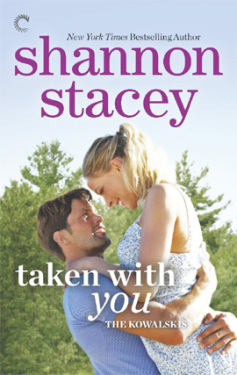 Title: Taken With You (Kowalski Family #8)
Author:  Shannon Stacey
Narrated by: Lauren Fortgang
Publication Date: March 25, 2014
Publisher:  Carina Press (print), Audible Productions (audiobook)
Genre: Romance, Contemporary
Find It: Goodreads, Amazon, B&N, Book Depository, Audible
Source: review copy from Audible
Rating: 3 stars – stick to your bedtime
Hailey Genest has seen most of her friends marry and have babies, and she's happy for them, but it was a lot easier before she hit forty. She's spent her entire life in Whitford, Maine, and if she hasn't found her Prince Charming by now, she has to accept she's probably not going to. When a new friend suggests they go on an adventure and embrace being single, Hailey agrees.

Surviving in the woods is game warden Matt Barnett's idea of a relaxing vacation. But when he meets two women in need of help, he leads them back to safety – a task that proves more fun than expected, thanks to a certain hot blonde. He can't resist pushing her buttons, even though she's made it clear that the rugged, outdoorsy type just isn't for her.

Hailey is glad to see the back of her tempting-tour-guide-slash-pain-in-the-ass. When he shows up in her life again, she's determined to avoid him, no matter how good he looks in his uniform. But that's easier said than done in Whitford, especially when he's renting the house right next door.
Hailey Genest isn't sure that Mr. Right exists and she isn't waiting around for him anymore. Instead, she and a friend decide to embrace their singleness by trying new, adventurous things, which include a singles friendly camping trip. Unfortunately Hailey's idea of the outdoors usually involves sitting on the porch with a good book and it looks like the adventure may end when she and her friend get separated from their group and get lost in the woods. Luckily game warden Matt Barnett finds them and leads them to safety. The two get off on the wrong foot with Matt thinking of Hailey as a superficial city girl while Hailey thinks Matt could use some civilizing. When Matt ends up moving in next door, he and Hailey butt heads while fighting their physical attraction to one another.
It's been a while since I last visited the world of the Kowalskis. If I recall correctly I read the first two books a few years ago and enjoyed them. Taken With You is book 8 in the Kowalski series so it looks like I am a tad behind. However, I didn't have any problems jumping into Hailey and Matt's story at all.
Hailey and I got off on to a bad start. Like Matt, I found her character at the beginning of the book to be somewhat annoying. Her city mouse in the country attitude rubbed me the wrong way at first but, as the book went on, I warmed up to her. She wasn't quite as clueless about the outdoors as she originally seemed and she had a really open mind about trying new things. Even though being outdoors wasn't her favorite thing to do, she made an effort to try the things that Matt liked, which I admired. She's also the town librarian which also gave her points.
I had an opposite sort of reaction to Matt. I liked him a lot at the beginning of the book but I got more and more frustrated with him as the story went on. Like Hailey, Matt had an idea of his ideal mate stuck in his head which made him believe that Hailey and he could not work out in the long run. Unlike Hailey though, Matt made no real effort to try the things that Hailey liked. The one time that he does try something new, he acts like a total jerk.
Despite some of my frustrations with Matt, I did enjoy Taken With You. There is something unique about small town romances and this book reminded me that I really should read more of them. Matt and Hailey make a good couple, even though they're both in denial about it for a while.
I listened to the audiobook version of this book, which is read by Lauren Fortgang. This is the first Fortgang novel I've listened to. She has a strong, clear voice and reads the book well. I was able to differentiate all of the characters easily and I would definitely listen to Fortgang narrate another book.
Overall I liked this book but it's not my favorite of the series. Hailey and Matt have some good chemistry once they let go of their preconceived dating ideas and let themselves enjoy each other. While Matt's attitude annoyed me, he eventually came around and I was happy to see them both get their HEA. If you like small town romances, you should definitely give the Kowalski series a try.
*I received a copy of this book from the publisher in exchange for an honest review. This in no way affected my review or opinion of the book.