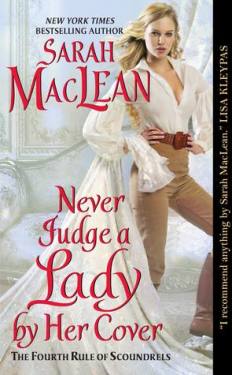 Title: Never Judge a Lady By Her Cover (The Rule of Scoundrels #4)
Author: Sarah MacLean
Publication Date: November 25, 2014
Publisher:  Avon
Genre: Historical Romance
Find It: Goodreads, Amazon, B&N, Book Depository
Source: e-ARC from publisher via Edelweiss
Rating: 4 stars – stay up late
She is the most powerful woman in Britain,
A queen of the London Underworld …
But no one can ever know.

He is the only man smart enough to uncover the truth,
Putting all she has at risk . . .
Including her heart.

The fourth book in New York Times bestselling author Sarah MacLean's incredible Rule of Scoundrels/Fallen Angels series. These four dark heroes will steal the hearts of their heroines and the readers alike! This is the last in the Rules of Scoundrels series—Chase's story

By day, she is Lady Georgiana, sister to a Duke, ruined before her first season in the worst kind of scandal. But the truth is far more shocking—in London's darkest corners, she is Chase, the mysterious, unknown founder of the city's most legendary gaming hell. For years, her double identity has gone undiscovered . . . until now.

Brilliant, driven, handsome-as-sin Duncan West is intrigued by the beautiful, ruined woman who is somehow connected to a world of darkness and sin. He knows she is more than she seems and he vows to uncover all of Georgiana's secrets, laying bare her past, threatening her present, and risking all she holds dear . . . including her heart.
**Review may contain spoilers for the series if you have not read the previous books.**
Sooooo good! Sarah MacLean never disappoints and the final book in The Rule of Scoundrels series is the perfect ending to the series. We finally get to meet the mysterious Chase, the owner of The Fallen Angel and a force to be reckoned with. Perhaps the most feared person in London, Chase has the knowledge and means to ruin every powerful member of the exclusive club. But Chase has secrets as well and when those secrets are threatened, will Chase fall as well?
If you haven't read the rest of the series, stop here. I don't want to ruin it for you. But if you have and have read the back blurb of this book, you know that Chase is none other than Lady Georgiana Pearson, ruined woman and sister of the Duke of Leighton. You may remember Leighton from Eleven Scandals To Start To Win A Duke's Heart. Georgiana thought herself in love at 16 and gave birth to a healthy baby girl whose father did not care to stay. Scared and alone, Georgiana fled London for a safe house where she could raise her daughter away from society's prying eyes. With determination and will, Georgiana manages to pull the biggest trick on the ton and becomes Chase, owner of The Fallen Angel and keeper of its secrets, which she uses to her advantage.  10 years have passed since then and Georgiana has decided that she needs to marry in order to pave the way for an easier life for her daughter. Daughters of unwed mothers are not looked upon kindly in society and Georgiana is determined that her daughter have an easier life than hers.  But it's becoming harder and harder for Georgiana to lead a double life and things get even more complicated when she starts to fall for the charismatic newspaper man Duncan West.
Sarah MacLean never disappoints and I always wait with baited breath for her next book release. Chase is one of my favorite Maclean heroines. She's such a unique character – a mix of intelligence, determination, guts and vulnerability. She's a loving mother but also a ruthless gaming club owner and shrewd business person. I had a lot of compassion for her. Society at the time was very unforgiving, but she didn't let it ruin her. Instead she used her pain as fuel to make herself one of the most powerful people in London. But she leads a lonely and secretive existence, never trusting anyone lest the truth come out. I was really glad that she found Duncan West, a man who is her match in intelligence and who challenges her. Both of them actually have a lot in common and have defied society's expectation of them. They also have fantastic chemistry and no one does love/hate like Sarah MacLean.
One of my favorite parts of the book was seeing Chase with the other Scoundrels. They have such a brotherly affection for her but also treat her as one of them, so their conversations are often a bit off color and always hilarious. After all of Chase's meddling in their own lives, they are only too happy to see her fall.
While I am sad to see The Rule of Scoundrels end, Never Judge a Lady By Her Cover is a wonderfully written and fitting ending to the series. I'll miss The Fallen Angel and all of the Scoundrels, but can't wait to see where MacLean takes us next.
*I received a copy of this book from the publisher in exchange for an honest review. This in no way affected my review or opinion of the book.