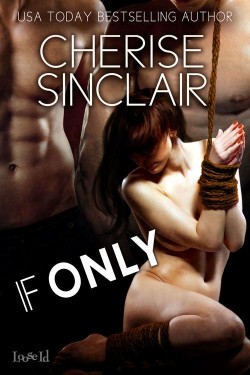 Title: If Only (Masters of the Shadowlands #8)
Author: Cherise Sinclair
Publication Date: November 5, 2013
Publisher:  Loose ID
Genre: Contemporary, BDSM, Erotica, Romance
Find It: Goodreads, Amazon, B&N, Book Depository
Source: Purchased
Rating: 3 stars – stick to your bedtime
After the last fiasco, Sally gives up. She'll never find a Dom of her own. Instead the computer whizz is job hunting in between bending the law—just a bit—to unearth the bastards who'd enslaved her friends. The clueless cops and Feds obviously need help.

FBI special agents, Galen and Vance, have waited to play with Sally for a long time. When the mischievous submissive returns to the exclusive Shadowlands BDSM club after an ugly relationship, the experienced co-tops are pleased. Realizing she's suppressing her emotions, the powerful Doms push her—only to find that her sassiness conceals a scarred and vulnerable heart.

Shaken by the unexpected emotional exposure, Sally flees the demanding Masters and the Shadowlands.

Both Galen and Vance have reasons not to seek a long-term submissive, but when a brutal attack by her ex-Dom sends Sally into their home, the two agents are driven to protect her. To help her. To take her under command. Falling in love isn't in the plans.

But as the little imp brings light into their lives, they begin to want more…until they discover she's hacked into an organization that delights in burning people alive.
I am a big fan of Cherise Sinclair's Masters of the Shadowlands BDSM romance series. I have slowly been working my way through the series and let myself read one between other books as a treat to myself.
I was really excited to finally read Sally's story. She's always been a fun character and I liked the idea of her with the two serious Feds. While I definitely liked this book – there were lots of great moments between the three not to mention really intense love sex scenes – I did not love it as much as I'd hoped. Sally has a lot of issues because of her jerk of a dad, but she was constantly jumping to the wrong conclusions and running away. She eventually learned not to but I did find her behavior frustrating at times. I also had a hard time believing that a smart woman like Sally would think that it was a good and safe idea to hack into the files of a dangerous sex slave operation. The characterization of Sally's father was also a little too over the top to be truly believable to me. There are probably people like him out in the world but he seemed a little extreme to me and I would have bought into his character more if he had been toned done a little.
I am also super sick of The Harvest Association. They've been a big part of the last few books and I was really hoping for a book that didn't involve them. I'm glad they were finally brought down though and hopefully this is the last that we see of this despicable organization.
Sally, Vance and Galen are a great match. I haven't read any books involving a threesome couple so I wasn't sure what to expect. While the dynamic is slightly different with three people instead of two, Sinclair does a very good job of writing a believable relationship between all three characters. I liked the camaraderie between Vance and Galen and Sally provided some levity and joy to their lives. I won't pretend to know anything about real D/s or threesome relationships, but this felt authentic to me. I could see why these characters would be drawn together and they work well as a unit.
Of course we can't visit the world of The Shadowlands without a visit from some of the other characters in the series. It was nice to see some of my favorite Doms and subs again. Dan and Kari also get a little storyline in this one and it's very sweet and sexy. The book's ending did feel a little cheesy with everyone and their HEAs, but hey, this is a romance series so I can go with it. If you have an open mind and like erotic romance, I definitely recommend this series. I am not sure exactly where Sinclair plans to take the series after this since most of the main characters are now settled. Whatever it is, I know that I will be reading it.
P.S. – The first book in the series, Club Shadowlands, is free for Kindle.