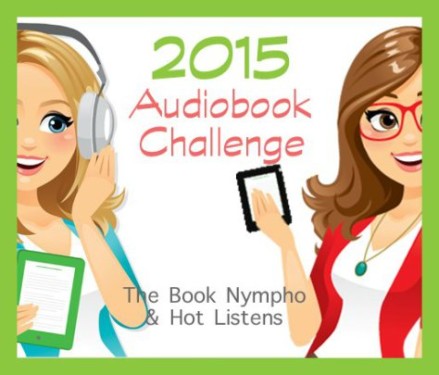 Hi, everyone. I found one more challenge I want to sign up for in 2015. This is the 2015 Audiobook Challenge hosted by The Book Nympho and Hot Listens. I spend a lot of time in the car driving and audiobooks are a great way to pass the time and also get some reading (listening) done. I have a lot of books in my Audible library and my local library has a great audiobook library via Overdrive. Rules for this challenge are:
Runs January 1, 2015 – December 31, 2015. You can join at anytime.
The goal is to find a new love for audios or to outdo yourself by listening to more audios in 2015 than you did in 2014.
Books must be in audio format (CD, MP3, etc.)
ANY genres count.
Re-reads and crossovers from other reading challenges are allowed.
You do not have to be a book blogger to participate; you can track your progress on Goodreads, Shelfari, Facebook, LibraryThing, etc.
If you're a blogger grab the button and do a quick post about the challenge to help spread the word. If you're not a blogger you can help by posting on Facebook or Tweeting about the challenge.
I am signing up for
Weekend Warrior (I'm getting the hang of this) 5-10
I definitely think that this is a goal that I can achieve. I am off to a good start already and am currently listening to The Maze Runner by James Dashner.
Let me know if you have any audiobook recommendations for me. Happy listening!