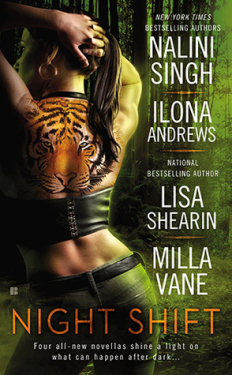 Title: Night Shift 
Author: Nalini Singh, Ilona Andrews, Lisa Shearin, Milla Vane
Publication Date: November 25, 2014
Publisher:  Berkley
Genre: Paranormal Romance, Fantasy, Anthology, Urban Fantasy
Find It: Goodreads, Amazon, B&N, Book Depository
Source: Bought
Rating: 4 stars – stay up late
Four masters of urban fantasy and paranormal romance plunge readers into the dangerous, captivating world unearthed beyond the dark…

New York Times bestselling author Nalini Singh delivers a smoldering story with Secrets at Midnight , as the scent of Bastien Smith's elusive lover ignites a possessiveness in him that's as feral as it is ecstatic. And now that he's found his mate, he'll do anything to keep her.

In #1 New York Times bestselling author Ilona Andrews' novella, Magic Steals , when people start going missing, shapeshifting tigress Dali Harimau and jaguar shifter Jim Shrapshire must uncover the truth about the mysterious creatures responsible.

From Milla Vane—a warrior princess must tame The Beast of Blackmoor to earn a place among her people. But she quickly discovers that the beast isn't a monster, but a barbarian warrior who intends to do some taming himself.

It's seer Makenna Frazier's first day on the job at Supernatural Protection and Investigations, and her first assignment is more than she bargained for when bodyguard duty for a leprechaun prince's bachelor party goes every which way but right in national bestselling author Lisa Shearin's Lucky Charms.
I am not usually a big fan of novellas and short stories unless I know the author well and know that they can write a good novella. This collection includes stories by Nalini Singh and Ilona Andrews, two of my favorite urban fantasy and paranormal romance authors. Having already read some novellas by both of them before, I knew that they could deliver the goods in a shorter format. I did not know much about the remaining two authors before this but, after reading their stories, consider myself fans of both.
Secrets at Midnight by Nalini Singh – 4 stars
Secrets at Midnight is a novella set in Singh's Psy-Changeling world. She gave a small teaser of it in her most recent Guild Hunter novel, Archangel's Shadows. I don't usually read excerpts because, if they are good, then I just want to devour the book right away and it sucks if it's not out yet. But I read it because I could not help myself and was hooked.
Midnight is the story of Bastien, a cat changeling from the Dark River clan. If you've read the series you will remember him as one of Mercy's adorable but infuriating brothers. I have a soft spot for the entire Smith clan and was really excited to hear that Bastien was getting his own story. This is the story about how he finds his mate, a woman who is now what she seems. I had a lot of fun reading this one. Bastien is charming and sweet and oh so sexy. Kirby was a nice match for him. She's not from the changeling world and has to learn to adjust to life around the cats.  I don't want to give it all away but Kirby has had some rough times in her past, and I admired her for her strength and resilience. She does not let Bastien or the other cats push her around. One of my favorite scenes is the one in which Mercy tests her mettle. Needless to say, Kirby can hold her own.
This is a really fun story and I loved seeing the Dark River clan again. I am hoping this means that the rest of Mercy's brothers will get their own HEAs as well.
Magic Steals by Ilona Andrews – 4 stars
Yes – Jim and Dali's story finally! Jim and Dali have always seemed like a bit of an odd couple. Jim is the cat alpha and is Curran's chief of security. Dali is a vegetarian were-tiger with terrible eyesight. On the surface they don't seem to have much in common. In Magic Steals though, we get to see why they are so good together. In Magic Steals, Dali is pulled in to help a family friend whose grandmother has disappeared. Jim comes along to assist and what she and Jim find is much more than just a case of a missing person.
I loved this story, which isn't surprising since I love this writing team. It was really great though to see a story that doesn't involve Kate or Curran at all. This was all Jim and Dali and it's fantastic. It was really cool to see how Dali's powers work. I don't know how much actual true Indonesian lore is incorporated into the mythology that they use here, but it's fascinating nonetheless. This story was also really funny and we get to see a different side of Jim. He's usually extremely serious but, in this, he lets a bit of his humor show. He also lets a bit of his softer side show (as soft as Jim can get) and I found their relationship to be unexpectedly sweet. Fans of the Kate Daniels series will not be disappointed in this one.
Lucky Charms by Lisa Shearin – 3 stars
Shearin is a new to me author. I had heard of Shearin's Grendel Affair but knew nothing about the world. Lucky Charms is a prequel novella set in the Supernatural Protection & Investigations (SPI) series. SPI is an organization whose goal is to hide the supernatural world from humans. It's Makenna Frazier's first day on the job as SPI's newest seer. As a person who can see through any glamour, Makenna will help SPI in its investigations in what she thinks will be a safe desk job. However, on her first case tracking down a group of wayward leprechauns, she finds that the job is going to be much more dangerous than anticipated. It also seems like someone may be targeting her in particular. Throw in a badass but taciturn and hot partner, and you have a formula for fun.
This novella was my least favorite of the bunch, but that's not to say that I didn't like it. Since this was my first taste of the SPI world, I wasn't as invested in it as I might have been. There was also a lot of information being thrown at me, which was a little hard to keep track of at times. That said, I did enjoy it, and am looking forward to reading The Grendel Affair now. Makenna is a really likable character, though she is a little too proper for my taste. I am sure that'll change though once she sees more of the world through her work with SPI. Ian Byrne (hot partner) piqued my interest as well. We don't learn much about him in this novella but there's enough there to make me want to know more about him. Overall I liked this one and will be picking up the series soon.
The Beast of Blackmoor by Milla Vane – 4 stars
The Beast of Blackmoor was a surprise for me. When I started it I wasn't sure if I would like it. I was expecting something in the UF realm but this is definitely more high fantasy. Story centers around Kavik, a young man who goes out to build an army in order to defeat an evil ruler in him homeland. Young and foolish, he angers a goddess who tells him of a warrior princess who will come to him and bring the end. Years go by and Kavik has become The Beast of Blackmoor, a fierce warrior who roams the land, trying to help those he can escape his dying kingdom. Finally the day comes when his warrior princess arrives. She is on a quest and must tame The Beast of Blackmoor in order to help save her own people. She doesn't realize that The Beast is a man until after she meets Kavik and then must figure out a way to complete her quest without destroying Kavik, whom she admires and comes to care for.
It took me a little while to get into this one. It's a really complex world and I had a bit of a hard time getting everything straight in my head at first. However, after reading for a bit, I found myself really immersed in it. The world is really unique, with its own demons, goddesses, creatures and language. But at the heart of it all were Kavik and Mala. The connection between the two is strong from the start and I could feel the pull that they felt towards each other. I loved how badass and fierce Mala was. She has so much poise and grace but can also cut you in two. Kavik is a tortured soul and my heart went out to him. He's lost everything and thinks that the woman he loves is going to be his end. The chemistry between Kavik and Mala is very primal and raw and their love scenes are as well. I never thought I'd find loincloths and beards sexy but Vane manages to make it so.
It wasn't until after I read this story and tried to find more by Milla Vane that I learned that Milla Vane is actually a pen name for Meljean Brook. I am a huge fan of Brook's Iron Seas series so I am not surprised then that I liked Blackmoor so much. The tone of Blackmoor is very different than the Iron Seas books but it has the same great world building and well written characters that I've come to expect from Brook. I could not find a lot of information on Blackmoor but I am pretty sure that it's a prequel to a new series that Brook will be writing under the Vane pen name. I really can't wait for a full novel to come out. If The Beast of Blackmoor is any indication, the new series is going to be fantastic.
Final thoughts:
If you are a fan of any of these authors or love urban fantasy and paranormal romance, then Night Shift is a must read. I bought this for the Nalini Singh and Ilona Andrews stories but really liked the other two as well. It's definitely worth the price tag to get 4 great stories in one neat package.