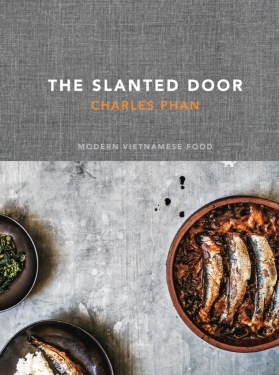 Title: The Slanted Door: Modern Vietnamese Food
Author: Charles Phan
Publication Date: October 7, 2014
Publisher:  Ten Speed Press
Genre: Cooking, Memoir, Non-Fiction
Find It: Goodreads, Amazon, B&N, Book Depository
Source: review copy from Blogging for Books
Rating: 4 stars – stay up late
The long-awaited cookbook from The Slanted Door, James Beard award-winning chef Charles Phan's beloved San Francisco Vietnamese restaurant.

Charles Phan opened The Slanted Door in San Francisco's Mission District in 1995, inspired by the food of his native Vietnam. Since then, The Slanted Door has moved across town to the historic Ferry Building and has grown into a world-class dining destination. Its accessible, modern take on classic Vietnamese dishes is adored by diners, chefs, and critics alike. "The Slanted Door" is a love letter to the restaurant, its people, and its food, featuring stories and essays along with to its most iconic recipes such as Seared Scallops with Vietnamese Beurre Blanc, Wok-Seared Eggplant with Satay Sauce, and Rack of Lamb with Tamarind Sauce. In addition to recipes, the book will include an extensive cocktail section, and essays on its esteemed wine program.
While I have not yet been to The Slanted Door restaurant, I have heard many sing its praises. Having grown up eating traditional Vietnamese food made by my mother, I am always a little wary of Vietnamese restaurants that claim to be "modern." I think it's just my inner prejudice that always wants to eat food that tastes like mom's home cooking. However, I knew that this book as going to be different and I went into it with an open mind.
 The presentation of this book is fantastic. It's an oversize book filled with lovely photos of delicious looking dishes and views of San Francisco. The recipes are easy to read and follow. The book is laid out in a pretty traditional format and goes from appetizers through desserts with a section for cocktails and drinks in the middle.
The recipes are laid out clearly with concise directions. For those not familiar with Vietnamese cooking, some of the ingredient lists and recipes may seem a little involved but most of the items should be easily found at your local Asian market and aren't very difficult in technique.
While I was a little apprehensive about what "modern" recipes would translate to, I was happy to see that there was a nice mix of traditional dishes as well as more modern dishes. Some of the classic dishes that I am looking forward to trying are the shrimp on sugarcane, spring rolls, shaking beef, Vietnamese quiche, chive cakes and chicken turnovers (pate chaud). Others like the crispy green beans, BBQ pork ribs, cabbage rolls with tomato garlic sauce and sticky rice with sweet potato are a less traditional but incorporate elements familiar in Vietnamese cooking.
My least favorite sections were Drinks and Desserts. I don't drink much alcohol so I cannot fairly judge the drink recipes. As for the desserts, I was slightly disappointed because most of the desserts in the book are French or French influenced. Phan explains that he grew up eating French desserts (due to France's previous colonization of Vietnam). So the recipes makes sense but I happen to be a fan of Vietnamese desserts and was a little disappointed that they were not represented in the book. Like I said though, that is my own personal bias and I fully plan on trying the roasted apricot tarts and spiced beignets in the near future.
Woven throughout the book are stories from Phan's life and the evolution of The Slanted Door. From his humble beginnings helping out a friend's mom with her food truck to opening the first location of The Slanted Door in The Mission, it's Phan's passion for food and drive that have brought the restaurant where it is today.
I definitely recommend this book for anyone who enjoys Vietnamese cuisine and would like to make it at home. Phan's enthusiasm and love of food is evident on every page and I can't wait to try some of these recipes!
*I received a copy of this book from Blogging For Books in exchange for an honest review. This in no way affected my review or opinion of the book.