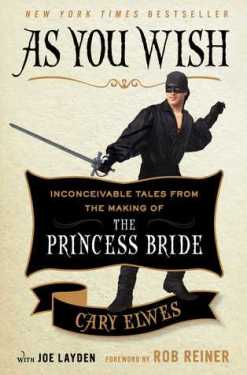 Title: As You Wish: Inconceivable Tales from the Making of The Princess Bride
Author: Cary Elwes
Narrated by: Cary Elwes, Christopher Guest, Carol Kane, Norman Lear, Rob Reiner, Chris Sarandon, Andy Scheinman, Wallace Shawn, Robin Wright, Billy Crystal
Publication Date: October 14, 2014
Publisher:  Simon & Schuster
Genre: Memoir, Non-Fiction, Movies & TV
Find It: Goodreads, Amazon, Audible, B&N, Book Depository
Source: Borrowed
Rating: 5 stars – stay up all night
From actor Cary Elwes, who played the iconic role of Westley in The Princess Bride, comes a first-person account and behind-the-scenes look at the making of the cult classic film filled with never-before-told stories, exclusive photographs, and interviews with costars Robin Wright, Wallace Shawn, Billy Crystal, Christopher Guest, and Mandy Patinkin, as well as author and screenwriter William Goldman, producer Norman Lear, and director Rob Reiner.

The Princess Bride has been a family favorite for close to three decades. Ranked by the American Film Institute as one of the top 100 Greatest Love Stories and by the Writers Guild of America as one of the top 100 screenplays of all time, The Princess Bride will continue to resonate with audiences for years to come.

Cary Elwes was inspired to share his memories and give fans an unprecedented look into the creation of the film while participating in the twenty-fifth anniversary cast reunion. In As You Wish he has created an enchanting experience; in addition to never-before seen photos and interviews with his fellow cast mates, there are plenty of set secrets, backstage stories, and answers to lingering questions about off-screen romances that have plagued fans for years!

With a foreword by Rob Reiner and a limited edition original poster by acclaimed artist Shepard Fairey, As You Wish is a must-have for all fans of this beloved film.
Unlike a lot of my friends, I did not watch The Princess Bride growing up and only saw it for the first time when I was in college. Of course, I had heard of the film but for whatever reason, had never managed to see it until then. I knew that it was a much beloved classic. My friends were quite appalled that I had never seen it and so I made a vow to finally watch it and see what all the fuss was about. Now, watching something as loved as The Princess Bride can be a little intimidating for the first time viewer. I was worried that the film would seem dated or that maybe I just wouldn't "get" the humor. There was the chance that my expectations were totally skewed and that, as a result, the film would fail to live up to the hype. You may think that's a lot of anxiety for one movie but, after hearing about it for so long, I really wanted to love it and wanted it to be as good as everyone said it was. I just didn't know if that was possible.
Fast forward almost 15 years and I proudly count myself as part of The Princess Bride fan cult. Indeed, even though I saw the film at least a decade after most of my friends, it didn't let me down and was just as magical and funny as I'd hoped. The Princess Bride is one of those rare films that transcends time, and is just as good now as it was 25 years ago – a film that is passed down from generation to generation.
In As You Wish, Elwes regales us with insider tales and anecdotes from the making of the film. He takes us through the casting process and recounts how Rob Reiner almost didn't come to see him while on set in Germany because of the recent disaster in nearby Chernobyl. Robin Wright was one of the last actors cast. Reiner saw literally seeing hundreds of potential Buttercups before they found Wright and he knew that she was the one. Elwes recalls how he and Wright were the youngest cast members (besides Fred Savage) and the trepidation he felt in joining a cast with such an amazing pedigree. It was funny reading this account since the Cary Elwes that I know is a well established and respected actor today but was a relative newcomer at the The Princess Bride was made. I was taken back to that time with him and experienced the giddy joy and nervousness of being a part of such an amazing project.
There is an extended section about the famous duel that he and Mandy Pantinkin perform near the beginning of the film. While I had always thought the fight to be an impressive one, both in the sword fighting and in the fantastic dialogue, I had no idea that Elwes and Patinkin spent months training for it. While the scene happens relatively early in the film, it was scheduled to be film near the end of shooting so that the two actors would have the maximum amount of time to hone their sword fighting skills. The two spent all of their free time and breaks between scenes working on their stunts with two world class sword fighters. While the two make it look effortless, knowing what went into it made me appreciate it even more.
This goes for much of the book, which gives the reader and inside look on what it was like to be on the set of the film. Ever wonder how they filmed the climbing scene up The Cliffs of Insanity? Or on-scene stunt that was an actual injury that remained in the film? Those stories and many more are included in this wonderful book. One of my favorite sections was about Andre the Giant who everyone seems to agree was a sweet man with a big heart.
While some people might find this book too much of a love fest to be believable, Elwes and the other cast members recount their experience on the set with such warmth and sincerity that it's hard not to believe that everyone had a great time on the film. I listened to the audiobook version, which I highly recommend. Elwes has a rich voice that sounds, unsurprisingly, just like Wesley. He is genuine and funny and you can't help falling in love with him a little. Elwes is a true storyteller and infuses warmth and humor into every word. The audiobook cast also includes selections read by Rob Reiner, Robin Wright, Wallace Shawn, Carol Kane, Chris Sarandon, and more.
As You Wish is a must-read (or listen) for any Princess Bride fan. The insider stories will give you a new perspective and appreciation for the film. I made myself finish the book before re-watching the movie and it was really fun to see it with new eyes.