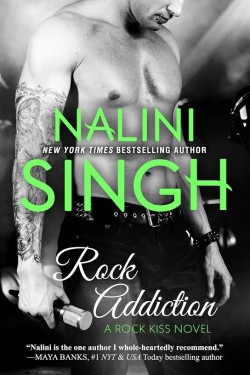 Title: Rock Addiction (Rock Kiss #1)
Author: Nalini Singh
Publication Date: September 9, 2014
Publisher:  TKA Distribution
Genre: Contemporary Romance
Find It: Goodreads, Amazon, B&N, Book Depository
Source: Purchased
Rating: 3 stars – stick to your bedtime
A bad boy wrapped in a sexy, muscled, grown-up package might be worth a little risk…

Molly Webster has always followed the rules. After an ugly scandal tore apart her childhood and made her the focus of the media's harsh spotlight, she vowed to live an ordinary life. No fame. No impropriety. No pain. Then she meets Zachary Fox, a tattooed bad boy rocker with a voice like whiskey and sin, and a touch that could become an addiction.

A one-night stand with the hottest rock star on the planet, that's all it was meant to be…

Fox promises scorching heat and dangerous pleasure, coaxing Molly to extend their one-night stand into a one-month fling. After that, he'll be gone forever, his life never again intersecting with her own. Sex and sin and sensual indulgence, all with an expiration date. No ties, no regrets. Too late, Molly realizes it isn't only her body that's become addicted to Fox, but her heart.
I am a huge, huge fan of author Nalini Singh, with my favorites being her Psy-Changeling and Guild Hunters series of paranormal romances. The announcement of the Rock Kiss series was a bit of a surprise since she doesn't usually write straight contemporary. While contemporary isn't my favorite genre, I knew that if Nalini Singh was writing it, I had to read it. If anyone could turn this paranormal/urban fantasy lover into a contemporary convert, it would be Singh.
While I really enjoyed Fox and Molly's story, it didn't have quite the impact that Singh's books usually have one me. The storyline was enjoyable but a little predictable. However, I think fan of contemporary romance and rock romances in particular will really enjoy this one. Fox and Molly are both great characters and Singh has no trouble bringing the heat to her newest book.
Fox and Molly have a great relationship and I liked that they were pretty solid throughout the whole book. I was expecting a lot of drama and distrust on Molly's part but she reacted with a class and maturity when sh*t went down. That's not to say that they didn't have any problems but I often find in romances that characters will react in ways that create the most drama but don't always feel authentic. Fox and Molly had their arguments, but I am glad that neither of them had an emotional fit or walked out on the other. I loved how sweet and vulnerable Fox was under the rock star exterior. And you can't get much sexier than a guy with a guitar. I also really liked how down to earth Molly was. I think she reacts how most of us would react in her situation and she's really likeable without being boring. She's a librarian, too, which gives her bonus points in my book. This is a Nalini Singh book so it's no surprise that the chemistry between the two is smoking hot.
Rock Addiction is fun, sexy and well, a little addicting. Though this isn't my favorite Nalini Singh book, it's a promising start and Singh has set the stage for a really fun series. I also really enjoyed the cast of secondary characters introduced in this novel. Molly's best friend Charlotte is fantastic and I can't wait to read about her and T-Rex. And what the heck happened between David and Thea? I never thought I'd be excited about reading a memo. I really want to know what 's going to happen with Kit and Noah, too, but it looks like they won't get a book for a while.
Rock Addiction lays a solid foundation to the Rock Kiss series and I am excited to see where Singh takes these characters.