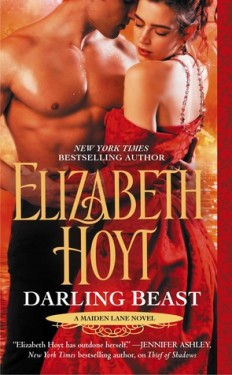 Title: Darling Beast (Maiden Lane #7)
Author: Elizabeth Hoyt
Publication Date: October 14, 2014
Publisher:  Grand Central Publishing
Genre: Historical Romance
Find It: Goodreads, Amazon, B&N, Book Depository
Source: e-ARC from Netgalley
Rating: 4 stars – stay up late
A MAN CONDEMNED . . .

Falsely accused of murder and mute from a near-fatal beating, Apollo Greaves, Viscount Kilbourne has escaped from Bedlam. With the Crown's soldiers at his heels, he finds refuge in the ruins of a pleasure garden, toiling as a simple gardener. But when a vivacious young woman moves in, he's quickly driven to distraction . . .

A DESPERATE WOMAN . . .

London's premier actress, Lily Stump, is down on her luck when she's forced to move into a scorched theatre with her maid and small son. But she and her tiny family aren't the only inhabitants—a silent, hulking beast of a man also calls the charred ruins home. Yet when she catches him reading her plays, Lily realizes there's more to this man than meets the eye.

OUT OF ASH, DESIRE FLARES

Though scorching passion draws them together, Apollo knows that Lily is keeping secrets. When his past catches up with him, he's forced to make a choice: his love for Lily . . . or the explosive truth that will set him free.
After being falsely accused of murder and spending 4 years in Bedlam, Apollo Greaves escapes with a little help from the Ghost of St. Giles. A beating has left him unable to speak and he poses as a simple gardner on the grounds of the ruined Hart's Folley. The authorities are still looking for him and he must figure out who really murdered his friends before they find him. Things get complicated when celebrated actress Lily Stump and her son take temporary refuge in his garden.
Another wonderful installment of the Maiden Lane series! I have been waiting patiently for Apollo's story since last year. After reading Duke of Midnight, I knew that Apollo's story was going to be a good one and I was not disappointed.
Apollo was an intriguing character from the first. My heart broke for him in Duke of Midnight. Bedlam is not a kind place and knowing that he was innocent made it even worse. Even after he managed to escape, he still has to stay in hiding, lest he be found out. Most men would have turned mad or bitter after what happened to him. But Apollo is neither. Slightly wary to be sure but he never loses himself. Though he seems uncivilized, he remains a gentleman at heart, a loyal and deeply caring person.
Lily Stump is an unusual heroine, an actress, playwright and single mother. I loved how independent and smart she was. Even though she has recently fallen on tough times, it's clear that Lily is a resourceful woman who can take care of herself and her family.
I loved the slow build up of their romance. Apollo is mute for a good portion of the book but still found ways to express himself. Lily was able to see past  Apollo's rough veneer to the good man inside, a man that perhaps even Apollo thought was lost. And Lily, though a celebrated actress, still lives on the fringes of society because of her profession. However, status doesn't matter to a man like Apollo and he loves Lily just as she is. The two make a fantastic pair.  Hoyt has a knack for putting together unlikely couples and making them work perfectly. I also loved little Indio. He and Daffy the dog are a hilarious, troublemaking team and I adored them both.
I closed this book with a happy sigh. Darling Beast is dark and sensual romance that is also very sweet and funny. Hoyt's Maiden Lane series is one of my favorite romance series and it continues to delight and entertain. I eagerly await each installment and savor them once they are released. The next book, Dearest Rogue, stars Lady Phoebe Batten and Captain James Trevillon! I think fans have been waiting for this book for a long time and I, for one, cannot wait.
*I received a copy of this book from the publisher in exchange for an honest review. This in no way affected my review or opinion of the book.