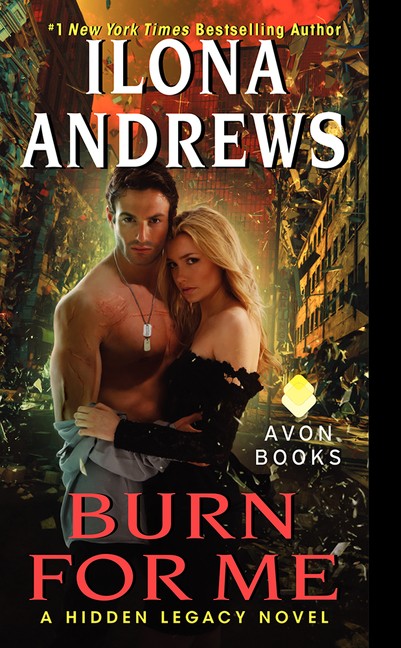 Title: Burn For Me (Hidden Legacy #1)
Author: Ilona Andrews
Publication Date: October 28, 2014
Publisher:  Avon
Genre: Paranormal Romance, Urban Fantasy
Find It: Goodreads, Amazon, B&N, Book Depository
Source: e-ARC from Edelweiss
Rating: 4 stars – stay up late
Nevada Baylor is faced with the most challenging case of her detective career—a suicide mission to bring in a suspect in a volatile case. Nevada isn't sure she has the chops. Her quarry is a Prime, the highest rank of magic user, who can set anyone and anything on fire.

Then she's kidnapped by Connor "Mad" Rogan—a darkly tempting billionaire with equally devastating powers. Torn between wanting to run or surrender to their overwhelming attraction, Nevada must join forces with Rogan to stay alive.

Rogan's after the same target, so he needs Nevada. But she's getting under his skin, making him care about someone other than himself for a change. And, as Rogan has learned, love can be as perilous as death, especially in the magic world.
Yes! New Ilona Andrews book! Burn For Me very similar to the Kate Daniels series with the magical and mundane worlds mixing, a reluctant working class heroine with hidden powers, and an extremely powerful alpha male. The characters and settings are different but the patented Ilona Andrews style is definitely there. While this is classified as paranormal romance, don't let that scare you away if you're typically not a fan of romance. While it has more of a romance element to it than the Kate Daniels series, I would still categorize it as closer to urban fantasy with a healthy dose of romance vs the other way around. Andrews is a master of the slow burn so expect a lot of foreplay, both verbal and physical. It reminds me a bit of The Edge series in tone so if you like that series, I think you'll like this one.
I've come to expect great world building with and Ilona Andrews book, and Burn For Me lives up to the reputation. Andrews creates a rich but accessible world with this new series. Magic is the most valuable commodity in this new world, and families with magic rich blood are demi-gods and rule as powerful corporations. Marriages are made in the hopes of producing powerful offspring. Nevada Baylor and her family are not a part of his magical dynasty and instead make their living as private investigators. Nevada doesn't want to be a hero but is forced to become involved with the magical high rollers when her family's well being is threatened.
I like underdog stories and Nevada is definitely an underdog. She does what she has to in order to keep her family safe and isn't afraid to put herself on the line. And, as you may have guessed, there's more to her she lets on. I really liked the entire Baylor family. Grandma is a tank loving spitfire and she made me laugh in every scene that she was in. I really can't wait to see more of them.
Mad Rogen is arguably one of the most powerful magic users in the world. He could flay a person alive with just a thought. He's a wild card, called in to help track down a family member who has gotten caught up with the wrong people. Most people do their best to stay away from him. He and Nevada get off to a bad start when he kidnaps her and tries to use his magic to force some information out of her. As you can imagine, Nevada isn't his biggest fan. But the two have to work together to track down a killer and, in the process, discover that they have some smokin' hot chemistry. If you've read any Ilona Andrews than you know that they know how to do sexual tension and this book has it in spades. I both love it and hate it. I know ultimately though that they payoff will be worth it though, and it's fun watching Mad and Nevada circle each other.
I don't know what else to say about this series except that you should READ IT. My only problem now is…I have to wait so long for book 2. There's a tiny teaser at the back of Burn for Me for the next book in the series, but it's not nearly enough. I think I need to find a spell that will make these two write faster. If you like the Kate Daniels formula of magic, snark and characters that love to hate each other, then do yourself a favor and read this book!
*I received a copy of this book from the publisher in exchange for an honest review. This in no way affected my review or opinion of the book.