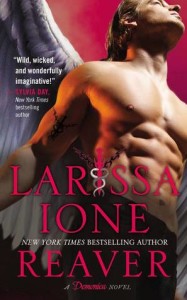 Title: Reaver (Lords of Deliverance #5)
Author: Larissa Ione
Publication Date: December 17, 2013
Publisher: Forever
Genre: Paranormal Romance
Find It: Goodreads, Amazon, B&N, Book Depository
Source: e-ARC from Netgalley
Rating: 3 stars – stick to your bedtime
WARRIOR OF HEAVEN

Reaver is an angel with a past, a record, and a less-than-heavenly attitude. Powerful enough to fight alongside the fiercest battle angels-and crazy enough to risk his wings on a one-way mission to hell-he's agreed to go where no angel has ever gone before…to steal the most seductive and dangerous prize of Satan himself.

ANGEL OF HELL

Harvester is one of the Fallen, a once-heroic angel who sacrificed her wings to work as an undercover agent in hell. But now her cover has been blown, and she's been doomed to an eternity of agonizing torture. Even if Reaver can snatch her away from Satan's lair, even if they can fight their way out of the underworld's darkest depths, there is one thing Harvester can never escape-her newfound thirst for an angel's blood.
We finally get Reaver and Harvester's story! If you've been reading this series, you know that their relationship is complicated, to say the least.
Overall I liked this one, but not as much as I thought I would. The pacing felt a little off at times and I didn't like how a lot of Reaver and Harvester's back story was told instead of shown to us. However, I enjoyed learning about the long history between Harvester and Reaver. They have both made mistakes with each other and both learn to forgive each other.
I've always had a bit of a soft spot for Reaver, foul mouthed angel that he is. His past has always been a mystery but this book leads us into his past and shows us how he ended up in his current state and the reason he fell from heaven. Though the cranky old Reaver is still there, we get to see another side of him as well – the protective, passionate and fierce aspects of him that were somewhat hidden before. He's still Reaver and can be a be a colossal dick at times, but seeing this side of him gave me new perspective on the angel.
I had a harder time getting on board with Harvester. She's been painted as a villain for a long time in this series and even though I know she was playing for the good side all along, it was hard to forget all of the awful things she did. However, as I got to know her more and learn her story, the more I warmed toward her. She has reasons for being the way she is and this book gave me a better understanding of her. I also think she is the only one tough enough handle Reaver.
Fans of the Demonica series will no doubt enjoy Reaver. While it didn't quite live up to my expectations, it was a fun and satisfying read. It was good to see Reaver and Harvester face their demons and come out the other side stronger and ready to be together. The Sem brothers make an appearance in this one as well, and it was really fun to catch up with them. I am also intrigued by some new characters that are introduced. I have a feeling that this won't be the last time that we will be seeing them.  I always enjoy my time in the Demonica world and I can't wait go back with the next book!
*I received this book free of charge from the publisher in exchange for an honest review. This, in no way, affected my opinion or review of this book.