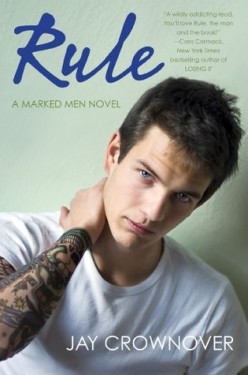 Title: Rule (Marked Men #1)
Author:  Jay Crownover 
Narrated by: Sophie Eastlake, Michael Rahhal
Publication Date: May 7, 2013
Publisher: William Morrow Paperbacks
Genre: New Adult, Romance
Find It: Goodreads, Amazon, Audible, Barnes & Noble, Book Depository
Source: Library
Rating: 3 stars – stick to your bedtime
Shaw Landon loved Rule Archer from the moment she laid eyes on him. Rule is everything a straight–A pre-med student like Shaw shouldn't want–and the only person she's never tried to please. She isn't afraid of his scary piercings and tattoos or his wild attitude. Though she knows that Rule is wrong for her, her heart just won't listen.

To a rebel like Rule Archer, Shaw Landon is a stuck-up, perfect princess-and his dead twin brother's girl. She lives by other people's rules; he makes his own. He doesn't have time for a good girl like Shaw-even if she's the only one who can see the person he truly is.

But a short skirt, too many birthday cocktails, and spilled secrets lead to a night neither can forget. Now, Shaw and Rule have to figure out how a girl like her and a guy like him are supposed to be together without destroying their love . . . or each other.
Shaw London has it all – or so it seems. A beautiful woman from a respected family and she's on the fast track to medical school. The one thing she wants is the one thing she can never have. Rule Archer doesn't play by anyone's rules but his own. He thinks of Shaw as an annoying little sister until they both have a little too much to drink one night and suddenly Rule starts seeing Shaw in a totally different light. It's a classic case of good girl meets bad boy but can these two seemingly opposite personalities work past their differences and find the love they both deserve?
I have mixed feelings about this book. I really liked the first half of the book, which was sexy and full of combustive chemistry. However, somewhere around the halfway point it started to go downhill for me. I got annoyed with the never ending examination of Shaw and Rule's relationship. They talked about it constantly, both with each other and with their friends. I was also annoyed by the way that Rule was always described as being super hot. I know he's supposed to be drop dead gorgeous but the endless descriptions of his hair and body were overkill. Shaw was described as beautiful, too, but I felt like the emphasis was much more on Rule. Girls were also throwing themselves at him all the time, which made me roll my eyes while listening to this book.
The depictions of Shaw and Rule's parents also irked me. While I am aware that people as judgemental as their parents exist in the world, I felt as if they were reading from some kind of disapproving parent manual. Their behavior was pretty predictable and bordered on caricature. I liked some of the other side characters in the book, though, especially Rule's brother Rome. You can tell that Crownover is setting up these characters to have their own books later on.
One of my personal pet peeves is when characters have unconventional names (like Rule) that are never explained. I don't expect a long explanation but I want to know the origin of a name if it's a really unusual one. Rule's brothers are Remi and Romee so their parents clearly have a thing for the letter "R" but I would have liked to know the name came from.
Despite some of my issues with the book, I did like Shaw and Rule as a couple. I am a fan of opposites attracting and Rule and Shaw are very different, at least from the outside. They fight like cats and dogs but have a deep understanding of the other and eventually see that they are more alike than not. Both come from really disapproving families who they've never felt good enough for. Shaw's reaction is to try to be the best daughter/sister/boyfriend possible while Rule goes in the opposite direction and rebels at every chance he gets. I liked that they could both be themselves with each other and I think they each brought out the best in the other.
I listened to the audiobook version of this book, which was read by Sophie Eastlake and Michael Rahhal. Both readers are new to me but I enjoyed listening to them. They were believable as Shaw and Rule and I liked that each section was read by the appropriate male or female narrator. This was also my first romance book on audio. I generally shy away from romance on audio because it just seems weird to listen to love scenes out loud. However, it wasn't weird at all and I can definitely see more romance audiobooks in my future.
Overall, I liked but did not love this book. There was some annoying moments but Shaw and Rule had amazing chemistry and I am interested to see where Crownover takes some of the other characters in the series.