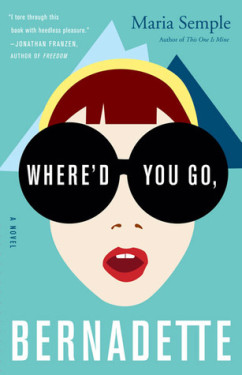 Title: Where'd You Go Bernadette
Author: Maria Semple
Publication Date: August 14, 2012
Publisher: Little Brown
Genre: Adult Fiction, Mystery
Find It: Goodreads, Amazon, Barnes & Noble, Book Depository
Source: Library
Rating: 3 stars – stick to your bedtime
Bernadette Fox is notorious. To her Microsoft-guru husband, she's a fearlessly opinionated partner; to fellow private-school mothers in Seattle, she's a disgrace; to design mavens, she's a revolutionary architect, and to 15-year-old Bee, she is a best friend and, simply, Mom.

Then Bernadette disappears. It began when Bee aced her report card and claimed her promised reward: a family trip to Antarctica. But Bernadette's intensifying allergy to Seattle—and people in general—has made her so agoraphobic that a virtual assistant in India now runs her most basic errands. A trip to the end of the earth is problematic.

To find her mother, Bee compiles email messages, official documents, secret correspondence—creating a compulsively readable and touching novel about misplaced genius and a mother and daughter's role in an absurd world.
Where'd You Go Bernadette is an epistolary novel told through emails, faxes, newsletters, FBI reports, handwritten notes and journals entries from various characters as they try to piece together the events leading up to the disappearance of Bernadette Fox. Bernadette Fox is an agoraphobic mother and former architectural genius who lives in a crumbling old school house with her precocious daughter Bee and her workaholic husband Elgin Branch. A few days before her family is set to go to Antarctica, Bernadette goes missing. The book is a collection of documents that Bernadette's daughter Bee pit a together to try to unravel what happened leading up to her mother's disappearance.
I don't usually enjoy epistolary novels. I find them to be too contrived and often we only get one or two very limited points of views. I understood the author's reasons for setting up the book this way, but I still had some issues with it. I liked that the letters, etc. came from a lot of different charcters instead of just one or two. This gave the book a more well rounded perspective. However I found some of the entries to be unnecessary, such as Elgin's TEDTalk transcript and notes from an annoying party planner named Olly-O. I was also never sure if Bee's parts were journal entries, blog posts or something else. They didn't quite fit in with the other entries.
The story starts off simply with the beginnings of a feud between Bernadette and her uptight neighbor Audrey Griffiths. However, as the book continues and we start to learn more about Bernadette, it becomes unclear as to just who is the crazy one in the situation. The author is adept at planting doubt into the reader's mind. First I was on Bernadette's side, then Audrey and back again.
Unfortunately I found it really hard to care about most of he characters in the book. They all seem to think that the world revolves around them and their problems. It's hard to feel sorry for them as they whine about the difficulties of their affluent lives and refuse to take responsibility for their own actions. The only character I really liked was Bee, and I felt sorry that she was stuck with a group of selfish adults.
Even though most of the characters annoyed me, the book managed to keep my attention and I was invested in the outcome. I liked the ending but it wrapped up a little too tidily to be really plausible. I also wished that there was a longer epilogue since I still had a few questions I wanted answers to.
I give points to this book for trying to be different. While I didn't love it, the style was unique.