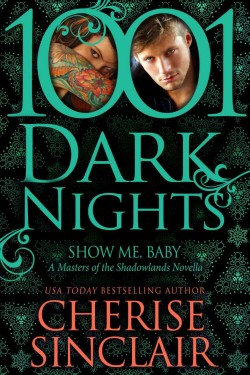 Title: Show Me, Baby: 1001 Dark Nights (Masters of the Shadowlands #9)
Author: Cherise Sinclair
Publication Date: August 12, 2014
Publisher: Evil Eye Inc.
Genre: Romance, BDSM, Erotica
Find It: Goodreads, Amazon
Source: Purchased
Rating: 4 stars – stay up late
After his last lover chose her career over him, Jake knows he wants a woman who will put him at the top of her priorities—as he would with her. One of the trainees, Rainie, has caught his attention. Lush body, a gift for living life to the fullest, always laughing or smiling. Yeah. She trips all his switches. But she's never given him a second look and that's damned annoying.

Rainie has been burned enough times that she's not going to get serious about any man. Sure, the BDSM club trainees are supposed to be looking for a permanent Dom, but no harm, no foul—they don't need to know she lied. Trainees get to be involved in everything—and with everyone. But there's one she avoids. Master Jake is always frowning at her. No matter how gorgeous he is, she doesn't need any disapproving Dom up in her business.

Unfortunately, her best friends are having a double wedding. Little hearts are floating in the air. Every breath is filled with romance. Rainie is doomed.
Jake is a Master at Shadowlands – a vet by day and Dom by night. Rainie is a sweet, smart sub who has purposely avoided contact with Jake. Unknown to Jake, Rainie knows him from a long time ago, when she was a shy and scared teenager. After being teased, Rainie's runs from Jake's home and into a situation that has her running away from home. Rainie vows to keep Jake in the dark about her past but, as he breaks down all her walls, she finds it harder and harder to protext her heart.
I am a couple of books behind in this series so I actually didn't know who Jake and Rainie were. However, that did not stop me from having a blast reading their story. I really liked both Jake and Rainie. I mean, is there anything sexier than a hot vet who likes to dominate in bed? I admired Rainie's strength and determination. She pulled herself out of the gutter to become a successful, kind person. I also liked that she had a fuller figure and was (for the most part) comfortable with her body. Rainie had a lot of hang ups about her past though and it was frustrating at times. Good thing she had Jake there to spank the self doubt out of her. Jake has a few issues of his own as well and it takes Rainie's soft heart and lush body to show him that strength comes in many forms.
Much of this story was set outside of the Shadowlands club, which was a nice change of pace. Not that I don't love the club but it was nice to see characters from the club in a different setting. All of the Shadowlands favorites make appearances, including Master Z, a pregnant Jessica, Cullen, Andrew, Gabi, Marcus, Galen, Vance, Sally and a few other characters that I wasn't familiar with but that I think will pop up again. There's also the double wedding fans have been waiting for and a wild bachelorette party, Shadowlands style.
Even though this was a novella, it did not feel too short or rushed. If you're looking for a sexy, quick read that packs a lot of punch, I highly recommend this novella. Then after you read this, go back and read the rest of the Shadowlands series.
Show Me, Baby by  is a novella from the 1001 Dark Nights anthology. Inspired by 1001 Arabian Nights, Dark Nights features 12 novellas by well known romance and erotica authors. One novella will be released each month and a book featuring all 12 novellas should be out by the beginning of 2015. Each novella will only be available on Amazon for the first 90 and will be released to other e-tailers after the initial 90 day period.