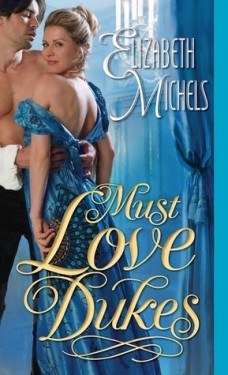 Title: Must Love Dukes (Tricks of the Ton #1)
Author: Elizabeth Michaels
Publication Date: February 4, 2014
Publisher: Sourcebooks
Genre: Adult Historical Romance
Find It: Goodreads, Amazon, B&N, Book Depository
Source: Library
Rating: 2 stars – you are getting very sleepy
She Can't Resist the Dare

Lillian Phillips could not imagine how her quiet, simple life had come to this. Blackmailed by the Mad Duke of Thornwood into accepting one wild dare after another…all because of a pocket watch. Desperate to recover her beloved father's pawned timepiece, Lily did something reckless and dangerous and delicious—something that led to a night she'd never forget.

He has a Reputation for Scandal

When Devon Grey, Duke of Thornwood, runs into a mesmerizing, intoxicating, thieving woman who literally stole from his bedchamber—with his new pocket watch—Devon plots his revenge. If the daring wench likes to play games, he's happy to oblige. After all, what's the use of being the Mad Duke if you can't have some fun? But the last laugh might just be on him.
Normally I love a good tale of romance and estranged lovers, but Must Love Dukes was only so-so for me. I am still not sure why but I did not feel an emotional connection to either Lily or Devon. They were both pleasant characters but neither sparked a strong reaction from me. While they had plenty of chemistry in and out of bed, the rest of the plot dragged and I found myself skimming large parts of it.
Besides my lukewarm reaction to the main characters, I also found the initial set up of the novel to be a little unbelievable. We have a prim and proper society miss following a complete stranger into a tavern. The two then proceed to have a rather adventurous night together, after which the heroine disappears without a trace. While I am all for heroines who buck society's rules, it was hard for me to imagine that Lily would let things get so far with Devon, even if she thought it was her one night of freedom. I also wasn't sure how Lily and Devon went from mere attraction and lust to love. One minute they're flirting and the next, she realizes that she's in love with him. While things often move quickly in romance novels, I can usually see the progression from lust to love. In this case, it seemed too sudden.
I originally started reading this and thought that it was a back catalog title from one of my favorite authors. I was getting more and more disappointed as I read, only to realize the next day that this was not written by who I thought. I added it to my digital library based on the rec of a favorite author, and had somehow confused the two. While I was glad that it wasn't by an author I already liked, I was still disappointed that I did not enjoy it more.
The reviews for this book seem to be largely positive so I am in the minority of people who didn't like it. Perhaps I just wasn't in the right mindset but this book had a hard time keeping my attention. I liked the banter between the two characters though and this book had a few funny bits. I would consider reading another book by this author in the future, but this one wasn't my favorite.