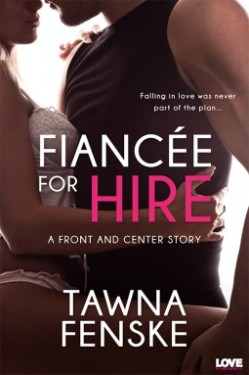 Title: Fiancée For Hire (Front and Center #2)
Author: Tawna Fenske
Publication Date: July 21, 2014
Publisher: Entangled Lovestruck
Genre: Adult Contemporary Romance
Find It: Goodreads, Amazon, B&N, iTunes, Kobo
Source: Purchased
Rating: 4 stars – stay up late
Former Marine MacArthur Patton has made a small fortune on top-secret government contracts and black-ops missions, but his new assignment involves something more dangerous—marriage.

Well, fake marriage anyway.

To keep weapons out of the hands of terrorists, Mac has to secure a fiancée. A sweet, demure, compliant fiancée to serve as his arm candy for a few weeks while he completes the covert arms deal in Mexico. His sister claims to know just the woman, and sends her best friend to play the role.

"Sweet" and "demure" aren't in Kelli Landers's repertoire. A badass veterinarian who neuters big dogs and bigger men on a regular basis, she can't wait to bring Mr. Tall-Dark-and-Detached to his knees. Her longtime crush on the commitment-phobe makes her plan to seduce him even sweeter.

Love wasn't part of the plan, but the deeper Mac and Kelli fall into their ruse, the more danger they attract, until more than just their hearts are on the line…
Ever since I read Marine for Hire (Front and Center #1) , I was hoping for a Mac and Kelli book. I was so excited to see that it was coming out that I pre-ordered it. This is big, since I don't pre-order many books. When the book arrived, I started reading it immediately. I would have read it all night if I hadn't had an early morning training. As it was, I stayed up too late and then felt like a kid again as I tried sneaking in chapters during the breaks and slows parts of the training. And when I did finally finish reading it, I went back and re-read all my favorite parts.
In Marine for Hire, I adored the sexy marine Sam (hero) and liked the divorced mom of twins, Sheridan (heroine). And it is in that first book where you meet the heroine's older brother, MacArthur "Mac" Patton, and her best friend, Kelli. There was something about the uptight, domineering older brother and the wild, sexy best friend that made me like them immediately. After reading Marine for Hire, I knew I liked Fenske's writing style and her characters.
In Fiancée for Hire, Mac is looking for a fake fiancée to help him with his cover and his mission. Sheri sets Mac up with Kelli who has had a crush on Mac since she was a teen. Kelli is also opposite of everything that Mac thinks he wants for this mission. I loved that Mac and Kelli were very well matched. Both could be controlling and both had their own trust issues. At times, Mac clearly didn't know what to do with Kelli, who is able to often stay one step ahead of him. Together, they are fun and super sexy.
Was Fiancée for Hire a perfect book? Nah! There were parts that I just burst out laughing because the situations that Kelli found herself in were typically contrived to move the plot along. However, I was also laughing because they were just that funny. Between characters that I really liked, humor, and sexy scenes, I found that I could be very forgiving of the small things that made the story less than perfect.
In addition to really loving Mac and Kelli, readers get to meet Mac's mother who is a hoot in her own way, and his younger brother, Grant. I am hoping that either Grant or Kelli's college roommate, Anna (who is the wedding planner in this book) are in the third book and if they happen to be in it together, all the better.
If you are looking for a fun, sexy read, then you may want to try out Fiancée for Hire. There is enough filling in the gaps at the beginning that this can be read alone or sequentially as part of the series.