The Bout of Books read-a-thon is organized by Amanda @ On a Book Bender and Kelly @ Reading the Paranormal. It is a week long read-a-thon that begins 12:01am Monday, August 18th and runs through Sunday, August 24th in whatever time zone you are in. Bout of Books is low-pressure, and the only reading competition is between you and your usual number of books read in a week. There are challenges, giveaways, and a grand prize, but all of these are completely optional. For all Bout of Books 11 information and updates, be sure to visit the Bout of Books blog.
My friend K convinced me to sign up for Bout of Books again. I tend to suck at reading challenges so I don't sign up too often but Bout of Books is fun and it's nice to get a little push to read more. I am keeping my goals pretty modest since the challenge only runs a week. These are my goals.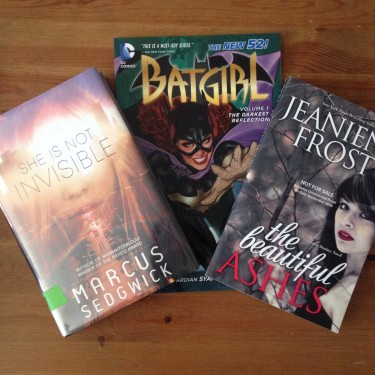 Read:
She Is Not Invisible by Marcus Sedgwick
Batgirl Vol 1 by Gail Simone (I keep meaning to read this but it never happens. I am really doing it this week.)
The Beautiful Ashes by Jeaniene Frost
Darling Beast by Elizabeth Hoyt (ebook)
Visit 5 blogs I've never visited before
Who else is signing up for Bout of Books? Do you like reading challenges or are you bad at them like I am?