Titl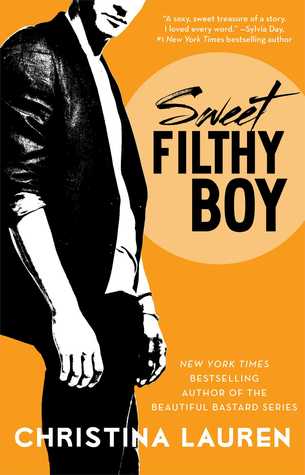 e: Sweet Filthy Boy (Wild Seasons #1)
Author: Christina Lauren
Publication Date: May 13, 2014
Publisher: Gallery Books
Genre: Young Adult Fiction / Romance
Find It: Goodreads, Amazon, B&N, Book Depository
Source: Purchased
Rating: 5 stars – stay up late
One-night stands are supposed to be with someone convenient, or wickedly persuasive, or regrettable. They aren't supposed to be with someone like him.

But after a crazy Vegas weekend celebrating her college graduation—and terrified of the future path she knows is a cop-out—Mia Holland makes the wildest decision of her life: follow Ansel Guillaume—her sweet, filthy fling—to France for the summer and just…play.

When feelings begin to develop behind the provocative roles they take on, and their temporary masquerade adventures begin to feel real, Mia will have to decide if she belongs in the life she left because it was all wrong, or in the strange new one that seems worlds away.
Recently, I have been in a reading slump. I start books and don't finish them. I have trouble with finding a connection to characters and I wonder if I will ever finish a book again. I reached out to a friend and asked her to recommend a favorite book. We have similar taste in books, particularly in the types of hero/heroines we like. Her response – Sweet Filthy Boy by Christina Lauren, author of the Beautiful Series. As part of full disclosure, I have not read the Beautiful Series. Something about that series never appealed to me. However, I trust my friend, so I downloaded the book. And sure enough, my friend was right. I started the book and couldn't put it down. I ended up finishing it the same day I started it.
Characters are important to me. I can forgive much in a book if I love the characters. I fell in love with Ansel and Mia. I loved that despite their quick connection and impulsive decision the book actually deals with the reality of those decisions. I loved that there is character growth. I loved that the ending was realistic. I simply loved this book.
Since I cannot just say, I loved the book, go read it. I guess I should tell you a bit more about Ansel and Mia. Ansel is a very hot French guy. He is in Vegas for a few days after a 3 week cycling trip with two other friends. Mia is a recent college graduate headed in the fall to graduate school on the East Coast. She is in Vegas for the weekend with her two best friends. One of the things I loved is that Ansel wasn't just this messed up guy. Despite some impulsiveness on Ansel's part, he is actually a really good guy and has a career and a direction and focus. Of course, there are some secrets. Mia is at a typical place post college graduation. She has plans but they may be more of what she is expected to do rather than what she wants to do. And of course, she has some baggage to deal with. There is an instant attraction between Ansel and Mia, and when he invites her to France for the summer, she decides to go.
This is the place where I could have decided that I loved or hated the book. However, Christina Lauren plays it well. The awkwardness of their decisions start to surface immediately upon their arrival in France. Life isn't perfect and they need to figure out if they can become a couple and what that means. There are little conflicts along the way and real life that intrudes on the fairy tale. There are decisions that have to be made and you find yourself cheering them both on. And the sexy scenes, well those really sizzle.
If you like sweet, sexy romance with characters that are not constantly annoying, I would certainly recommend giving this one a read. And remember those friends that I mentioned earlier, I suspect that they will be getting books of their own.